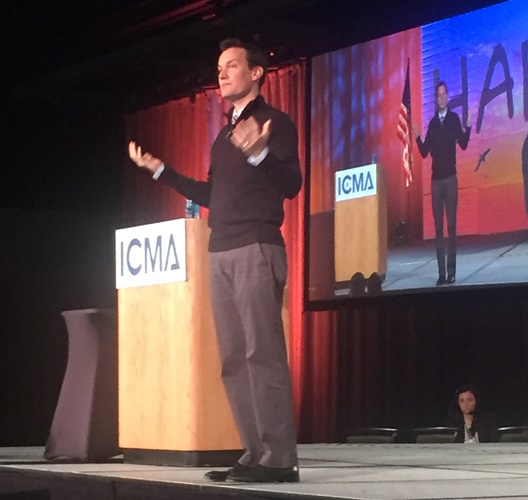 With the energy and conviction of an evangelist and the humor of a standup comic, Shawn Achor kicked off the 101st ICMA Annual Conference with his message that individuals and communities fueled by happiness and optimism have more successful outcomes "by every measure that we know how to test for." Achor is a behavioral scientist and author of The New York Times's best-selling books The Happiness Advantage (2010) and Before Happiness (2013).
Achor admitted that some find happiness "fluffy," so he backed up his hour-long presentation by citing dozens of studies that he and others have documented across decades. He even had the audience participate in a research project proving that it's nearly impossible for one person to look into the face of another smiling person without it being contagious—at least for 95% of the audience. This, he explained, is because our brains are wirelessly connected to others through mirror neurons, which is why businesses ranging from hotels to hospitals are training employees to smile and make eye contact when they encounter others.
Another key to changing outcomes is rational optimism, which he defined as a realistic assessment of the current situation and the belief that behavior matters and that the problems can be fixed, rather than believing that challenges are insurmountable. Calling the work of ICMA members sacred, Achor admitted that stress in the world of local government is unavoidable. However, "the effect of stress upon us is not inevitable. Our mindset is what matters. Do you perceive a set of stressful circumstances as challenge or a threat?" he asked. He gave examples of leaders who bring their teams together to have a shared experience of a stressful situation similar to a boot camp where team members bond.
Achor wrapped up his presentation by sharing the behaviors that he said have been proven to increase happiness in even the most entrenched, pessimistic brains. Taking a few minutes a day, every day for 21 days, to practice these behaviors will create positive brain changes.
Identify 3 news things each day for which you are grateful and describe why.
At the end of a day, choose a positive thing that happened and write about it in detail for 2 minutes.
Find a fun cardio activity to do for 15 minutes.
Meditate for 2 minutes.
Perform a conscious act of kindness. Achor suggested making the first task in the morning a 2-minute e-mail thanking someone for something that they have done.
Achor will provide detailed research links and more information by e-mail at start@happinessadvantage.com.
Other opening session highlights
Jim Bennett, 2014-15 ICMA president, kicked off the 101st ICMA Annual Conference, perhaps the largest in ICMA history (the final registration numbers were not available at press time). He shared highlights of the past year, including record-setting membership numbers of 10,130.
Bennett introduced Bob Schultze, who spoke for the first time at an ICMA conference as president and CEO of ICMA-RC, welcoming attendees and emphasizing the ICMA-RC mission of building financial security for state and local government employees. Attendees were also welcomed by Marilyn Strickland, mayor of Tacoma and James Dow Constantine, county executive of King County and host committee co-chairs Doug Schulze, city manager of Bainbridge Island, Washington, and Bob Harrison, city administrator of Issaquah, Washington.