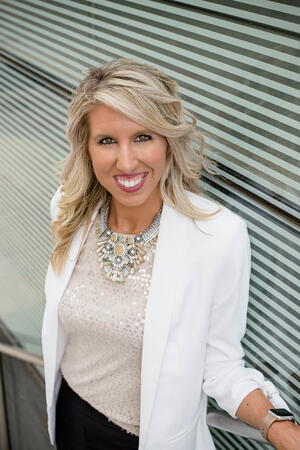 Mallory (Owens) Merritt joined the city of Davenport through ICMA's Local Government Management Fellowship program after completing an MPA degree at Auburn University. As a Fellow, she served as budget management analyst, working directly for the city's chief financial officer (CFO). Merritt was subsequently promoted to increasingly responsible positions and currently serves as the organization's assistant city administrator/CFO.
When Merritt was asked to reflect on her initial role with the city, she emphasized the value of involvement with the budget, noting that it provided an opportunity to learn the city's key service areas, understand the importance of transparency, develop relationships in the organization, and dial in on her technical skills.
As a young professional, Merritt traverses effortlessly between personnel, policies, projects, and problems—all with a calm head and a professional approach. She is articulate and fair and finds a way to add levity when it is most needed. As a leader, she has tackled several challenging situations. When she was assistant to the city administrator, she assisted a variety of departments with their business-like functions. During a leadership transition within the fire department, she provided administrative support to the interim fire chief and command staff in the areas of personnel and records management, recruitment, budget/strategy, and communications.
When Merritt transitioned to the role of human resources director, she spent nearly three years realigning the department's mission to complement Davenport's overall strategic direction and workplan. Most importantly, she developed a talented team focused on serving the organization and its personnel. When Davenport's CFO position became vacant, Merritt agreed to serve as interim CFO while maintaining the HR director role through a challenging year. She has since transitioned to the CFO role permanently and has also assumed the new role of assistant city administrator. One of Merritt's most valuable professional skills is leading cross-departmental and cross-functional teams, gaining consensus on a shared vision, and producing successful outcomes. Here are some highlights of her contributions:
COVID-19 Response. Merritt led the organization's employer response to the COVID-19 pandemic including implementing Families First Coronavirus Response Act programs, return-to-work procedures, and quarantine protocols. She led the city's CARES Act submission to the state of Iowa, resulting in the receipt of an additional $2.4 million; Davenport was also selected to be a pilot submitter, and Merritt's team collaborated with the state on developing the submission system for all other Iowa municipalities.
Labor-Management Relations. Merritt successfully negotiated six union contracts that were voluntarily settled, including contracts with police and fire. During her tenure, she has also significantly improved relationships with the Civil Service Commission and built strong and collaborative relationships with the city's six collective bargaining groups, resulting in a significant reduction in union grievances.
Public Safety Operations Study. Merritt staffed a police and fire operations study that was completed in 2018. Recommendations from the study included staffing realignment, new facilities, and service delivery innovations, including priority-based dispatch. Merritt continues to work on these initiatives, most recently leading the RFP process for architectural and engineering services for the relocation and construction of a new Fire Station 3, which was a primary recommendation of this study.
Legislative Strategy. Merritt is actively involved in the city's legislative strategy initiatives and developed the city's first legislative issue papers, which are now adopted annually by the city council and distributed to the city's state delegation.
Other major initiatives included developing a citizens academy, leading an update of the city website, and serving as project manager for developing and launching two city-wide financial transparency tools. With these and other accomplishments, Merritt has demonstrated leadership, competency, and commitment to local government as an early career professional.