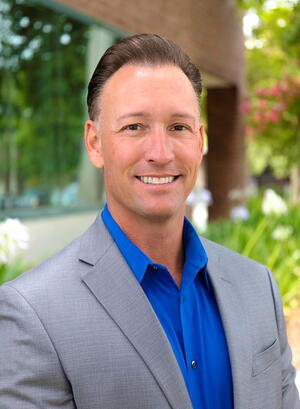 Leading and maintaining a successful, desirable city requires dedication and meticulous planning, even during the best of times. Santa Clarita City Manager Dr. Kenneth W. Striplin has been a steady guiding light when things are going smoothly and also during Santa Clarita's darkest hours. The final months of 2019 saw two of the most traumatic incidents in the city's history.
In October, the 4,615-acre Tick Fire forced the evacuation of 40,000 residents. When the smoke had cleared, 29 structures were destroyed, including 23 homes. The next month, another unthinkable tragedy struck when gunshots rang out at Saugus High School. Striplin led the well-trained city team through the incident, establishing the command post and reunification center, dispatching city buses to evacuate students, and managing the massive influx of parents, media, first responders, and elected officials. By noon the incident was over. The gunman was dead, having turned his weapon on himself after killing two fellow students and injuring three others.
In the aftermath, Striplin saw the immediate need for a strong show of community strength, and the city organized a vigil attended by more than 15,000 people. In addition, the city launched SaugusStrong,org, a website honoring the victims and also a platform for people to leave messages, which came in from 48 states and 29 countries. The city was able to create an opportunity for residents to grieve together and begin healing.
Santa Clarita is an idyllic suburb located 30 miles north of Los Angeles. Known for its high quality of life, top-notch city amenities, world-class events, vast career opportunities, and beautiful expanses of open space, it regularly tops the list of safest cities in the nation.
Striplin has been the city manager since 2012 and has delivered on a reputation of excellence. Under his leadership, Santa Clarita has become a destination for outdoor sports, events, and filming. Thanks to his conservative financial philosophy the city maintains AAA bond rating and ranks among the most fiscally healthy cities in the state. Santa Clarita has gained a reputation as a business-friendly city and has become home to more than 8,000 businesses. It was voted one of the Happiest Cities in the Nation prior to the COVID-19 pandemic, and during the shutdown, it ranked seventh among America's Best Cities to Be Stuck at Home during a Pandemic.
All these accomplishments were founded on extensive research, planning, public engagement, and, of course, strategy. In 2015, Striplin guided the organization through an in-depth strategic planning process, resulting in a five-year plan. The plan included major capital improvement projects and also harnessed new technology. The strategic plan enabled Santa Clarita to weather the pandemic and continue moving projects forward.
Striplin continues to develop the next generation of city leaders through mentoring, job shadowing, succession planning, and staff training. Well-known and respected in his field, he is active in many city management organizations, currently serving as the president of the California City Management Foundation and shares his time and experience to help others implement the programs he has pioneered. He, and the city, have received numerous awards and accolades. He was the recipient of the John H. Nail Award from the League of California Cities for his work as an outstanding assistant city manager, and Santa Clarita has won 19 prestigious Helen Putnam Awards of Excellence from the League.
As a leader, Striplin has demonstrated an unwavering dedication to the city organization and the Santa Clarita community. Thanks to his guidance, the city continues to thrive, even through heartache and adversity, and continues to live up to its reputation of a safe, family-oriented, desirable place to live.