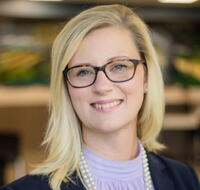 Amanda Mack, ICMA-CM Candidate 
City Manager
City of Spencer, Iowa 
From the beginning of her tenure as city manager in Spencer, Iowa, in January 2018, Amanda Mack has demonstrated leadership skills that are evident to those in her city and community. Her leadership has inspired an increase in community development and overall participation. 
Mack is an excellent example of positive young leadership. She exhibits an important skill—listening with an open, inquiring mind and seeking to know all sides of an issue so she can give research-based advice, not just an opinion. Mack has shown the ability to overcome obstacles, as she is the first female city manager for Spencer as well as the youngest. 
Before going to Spencer, Mack served as the chief administrator in Canton and Worthing, South Dakota. She has a bachelor's degree in history and political science from South Dakota State University and an executive master's degree in public administration from the University of South Dakota. She is president-elect of the Spencer Rotary Club, serves on the Iowa City/County Management Association executive board, served on the planning committee for the 2020 ICMA Annual Conference, and is a member of the International Society of Female Professionals.
She encourages open dialogue when it comes to leadership, community improvement, and citizen involvement. Due to these attributes and others, Mack has earned much-deserved awards and endorsements. The Early Career Leadership Award recognizes her for contributions to the city of Spencer and for the promise that she will continue to contribute to the development and growth of the local government management profession.
When contacted about the award, Mack thanked her colleagues and nominators before remarking,
"I am humbled to be announced as this years winner, I really don't know what to say about it, and often times I am not at a loss for words."