Gustavo Cordova, ICMA-CM, Retired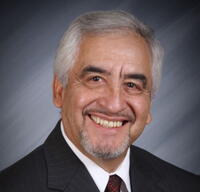 Gustavo (Gus) Cordova has served local and state governments, the local government management profession, and the country. He started his career with the state of New Mexico before becoming town manager in Taos, a position he held for more than 20 years. Then he was executive director of the New Mexico Association of Counties and city manager in Espanola, and later transitioned to senior vice president of the Mercer Group Inc.
Cordova's long tenure in Taos reflected his ability to manage effectively with elected officials, develop an outstanding management team, and bring about consensus on the priorities of the town council. Thanks to his leadership, Taos received recognition as an All-America City—an achievement that required active community collaboration in developing an incubator for emerging businesses. Another achievement was a management exchange and Sister City relationship with Xalisco, in the State of Nayarit, Mexico.
In Taos, he established a goal for all department heads to receive a public administration degree. Working with the University of New Mexico, he identified the teaching areas that would benefit both the town and the department heads and participated as a course lecturer.
Cordova has served on the ICMA Executive Board, the ICMA Credentialing Advisory Board, and ICMA committees and task forces and became active in the International Hispanic Network. He served in leadership positions with the New Mexico City Management Association and the New Mexico Municipal League, where he consistently promoted the ICMA Code of Ethics and encouraged participation in professional development for emerging professionals.
In recognition of his accomplishments, he has received the Distinguished Public Service Award from the New Mexico Municipal League, the US Army, and from the Governor of New Mexico. Cordova also served in the military, starting in 1968 and retiring in 2001 as a Colonel in the Army Reserve. He was a combat medic during the Vietnam War and received numerous medals and awards for his service.
"I am truly humbled to have been selected for this award. An award that comes from your peers is especially important and it means quite a lot to me."
Register for the ICMA Annual Conference
Join us September 17-21 in Columbus/Franklin County, Ohio for the 2022 ICMA Annual Conference.