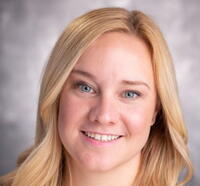 Michelle Smolen
Assistant City Manager
City of Paducah, Kentucky
Michelle Smolen is only the second assistant city manager since 1934 to serve Paducah, and she was appointed as the city's first female in that position in 2018. Since then, she has been challenged with establishing credibility in the position and has absorbed an increasing number of responsibilities within the organization.
Smolen joined the city in 2016 as an assistant to the city manager and her talent earned her a promotion to assistant city manager in just two years. Paducah City Manager James Arndt says,
"Michelle's continued growth and love for the profession has been a joy to watch. She truly understands the value in professional development and networking."
Since she took the assistant city manager position, Smolen has solidified her role in the organization as a dynamic leader as she develops her management skill set and helps the city grow.  Some of her specific accomplishments are:
Smolen served as lead negotiator during collective bargaining sessions with the International Association of Fire Fighters, and an agreement was reached in just two meetings.
The city adopted a very aggressive strategic plan, "Our Paducah," in 2018 and needed a champion. Smolen was selected and has demonstrated excellent leadership throughout the project. She consistently oversees monthly reporting and holds the department directors accountable. She is also responsible for the community engagement portion of the plan. 
In 2018 the organization established a middle management team to work on citywide projects/programs. It serves as a means to get citywide departmental buy-in on initiatives and to evaluate future leaders of the organization. This group needed a dynamic leader to energize them, and Smolen was selected for the job. 
When the city manager is out of the office, Smolen serves as his second in command.
In 2012 Smolen earned recognition from the Kansas University City Managers and Trainees Alumni Organization (KUCIMAT) as a recipient of its Intern Excellence Award. She also is a graduate of the Midwest Leadership Institute and participates in sessions to continuously improve as a leader in the field.
City Manager Arndt says that he continues to challenge Smolen in her role in order to prepare her for the transition from assistant to city manager:
"Michelle truly is a rising star and although today I have the pleasure of being her mentor in the profession, she has the capacity to far surpass me in her success .  . . .  I enjoy watching her grow and mature with every challenge. It has been an honor for me to serve as her City Manager."