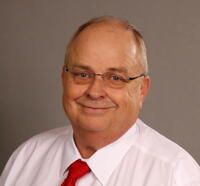 Lance Hedquist has served as city administrator of South Sioux City, Nebraska, since 1980. Before that he was assistant director of Siouxland Interstate Metropolitan Planning Council, Iowa (1970-1980).
ICMA had the chance to connect with Lance as he reflected on his career. 
ICMA: What was your first job?
LH: My first public job was with the Siouxland Interstate Metropolitan Planning Agency in 1969. 
ICMA: What was the most unusual council or other meeting you attended?
LH: We had a flood that was eminent, and the citizens were very concerned.  One of the most memorable meetings was a meeting with 1000's of citizens in a standing room only crowd.
ICMA: What is the most random item in your office or desk?
LH: It's a hand carved transit bus from the 1970's. 
"We can all learn valuable lessons from each other.  Having a professional organization to float ideas and concepts off of is very essential to moving our cities forward."