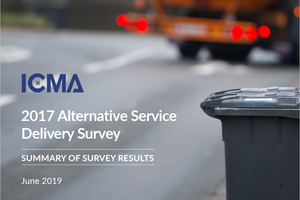 ICMA has been assessing local government practices, experiences, and policies in alternative service delivery for more than three decades. In June 2017, ICMA partnered with Cornell University to launch an update to the Alternative Service Delivery (ASD) Survey. Paper surveys were mailed to 13,777 chief administrative officers of all municipalities with a population over 2,500 and all counties across the United States. Responses were received from 2,343 local governments, yielding a response rate of 17% with a 2% margin of error.
This survey provides insights into alternative service delivery among U.S. local governments. Key topics explored include feasibility work done by local governments on private service delivery; obstacles faced in adopting private service delivery; techniques to evaluate private service delivery, as well as shared services with other jurisdictions; and how certain services are provided within communities. The term private service delivery includes for-profit firms, nonprofit organizations, and private industries.
Looking for the highlights of the survey results? Check out our report snapshot; perfect for printing or sharing!
Ready for a deep dive into the results of the survey? The data set is available for purchase!
Related Resources:
Managing Tight Resources: Alternative Service Delivery in Local Government: Local governments face a number of challenges when determining how to best deliver services to their communities. This "facts and stats" blog focuses on a recent summary report of the 2017 Alternative Service Delivery survey.
Meeting Service Needs with Tight Resources: How do local governments meet growing service needs with flat or declining resources? This Local Government Review article explores the tools managers use to craft a pragmatic response to changing needs and fiscal stress.