What would happen if there was a shortage of professional local government managers? Nothing less than the long-term viability of our communities would be at stake, because managers are vital to a community's success. They are the ones responsible for delivering the public services that improve quality-of-life and build places we're proud to call home. So as baby boomers begin to retire from local government, a shortage of these essential local leaders is looming.
Like most local governments, Casper, Wyoming's workforce contains a large number of baby boomers, one-fifth of whom have been with the city for 20 years or more. When they retire, they will take with them not only their institutional knowledge but also their leadership and supervisory experience. Their retirements could create a damaging leadership vacuum in Casper.
Understanding that a great organization does not support just its operations for today but nurtures its young in order to remain strong into the future, Thomas Forslund, now the former city manager, was known for taking young people under his wing as interns or analysts and encouraging them to use their positions as stepping stones. "I will be disappointed in you if you stay here for less than 18 months, but in five years, I expect you to be leaving," he would say. In most cases, these protégés went on to become city managers elsewhere.
Forslund also expected that his department heads become personally involved in training the next generation of Casper's leaders. The city's Leadership Training Program was designed to ensure that the city always has a pipeline of qualified applicants for its leadership positions.
The program, which began in 2007, provides training for firefighters, mechanics, wastewater treatment plant operators, accountants, analysts, and others. Forslund, the assistant city manager, and the department heads each taught at least one class so these future leaders not only learned the basics of management (budget writing, the essentials of employment law, and tactics for being an effective supervisor), but also heard real-life examples drawn directly from experiences in Casper.
As a result of Thomas Forslund's passion for professional local government management, Casper and cities across Wyoming are now well positioned to withstand the retirement of the baby boomer generation and ensure that residents continue to receive public services that are delivered effectively, efficiently, and ethically.
Meet the Manager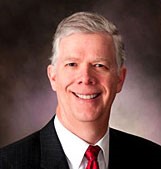 Thomas Forslund
City Manager
Widely recognized as the leader among all Wyoming city managers, Thomas Forslund served as city manager of Casper for 25 years before stepping down in 2011 to begin his new job as director of the Wyoming Department of Health. John Patterson is the current city manager of Casper. Patterson has over 30 yeas of municipal experience.