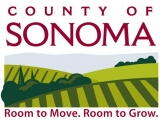 Deputy Director of Planning – County of Sonoma
County of Sonoma, CA
Expand your career in land use planning and permitting. Bring your exceptional leadership skills to Permit Sonoma!
Starting salary up to $86.76/hour or $12,414 - $15,089/mo ($181,078/year) and a competitive total compensation package!*
Permit Sonoma is the County's "one-stop shop" for all land use planning and development activities. Virtually any land development or construction that takes place in the unincorporated area of Sonoma County (outside the city limits of the nine cities) is reviewed, permitted, and inspected by Permit Sonoma. Our mission is to serve the people of Sonoma County by providing a customer-focused process to balance environmental protection and sustainable development. We balance our mission with effective resource stewardship and the development and maintenance of standards and practices that protect the public's health and safety.
What We Offer
Working at the County of Sonoma offers expansive opportunities for growth and development, the ability to be a part of a challenging and rewarding work environment, and the satisfaction of knowing you're working to better our communities. You can also look forward to flexible work arrangements and excellent benefits* including:
• Salary Advancement - A salary increase after 1,040 hours (6 months when working full-time) for good work performance; eligibility for a salary increase for good performance every year thereafter, until reaching the top of the salary range
• Paid Time Off - Competitive vacation and sick leave accruals, 12 paid holidays, and an additional 8 floating holiday hours per year
• County Paid Health Premium Contributions - 100% premium contribution for the majority of employee-only and employee + family health plan options
• Staff Development/Wellness Pay - Annual benefit allowances of up to $2,000 and ongoing education/training opportunities
• Post-Retirement Health Reimbursement Arrangement - County contributions to help fund post-retirement employee health insurance/benefits
• Retirement - A pension fully integrated with Social Security
• Paid Parental Leave - May be eligible for up to 8 weeks (320 hours) after 12 months of County employment
*Salary is negotiable within the established range and benefits described herein do not represent a contract and may be changed without notice. For more information, including minimum qualifications, & to apply, visit, www.yourpath2sonomacounty.org or call 707-565-2331. The County of Sonoma is an Equal Opportunity Employer. We value diversity and are committed to having a workforce that is representative of the communities we serve.