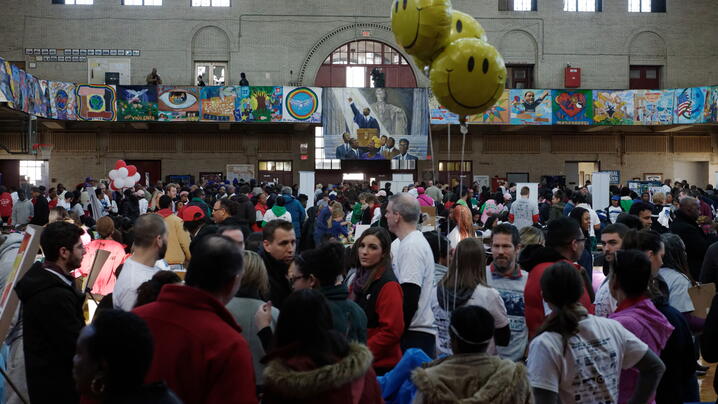 January 21 is MLK Day, the federal holiday that honors the legacy of Civil Rights Leader Dr. Martin Luther King Jr. Your community might already have planned events in conjunction with this day of service, but it's never too early to start thinking about next year! If you're looking for ideas, here's a quick look at what has been organized to take place in three communities:
Milwaukee, Wisconsin
For the past decade, the Milwaukee Public Library has opened its doors on MLK Day to offer residents "a celebration filled with poetry, music, dance, crafts, games, and community services." Sponsored by the Milwaukee Public Library Foundation, the day's programming begins with a series of opportunities for children and adults to "Make and Take Art," record a StoryCorps-style video of what they're doing to bring Martin Luther King's vision to life, learn about and sign up for community volunteer opportunities, and other family-friendly activities. At noon, Milwaukee's mayor and city librarian will kick off an afternoon of live programming that includes performances by Milwaukee Public School students and classically trained musicians, as well as a lecture on Dr. King's Beloved Community. The day concludes with residents enjoying a slice of cake in honor of Dr. King's 90th birthday.
Dublin and Macon, Georgia
In Middle Georgia, according to The Macon Telegraph, the celebration kicks off with a 25th Annual MLK Parade in downtown Dublin at noon on Saturday, January 19. The following day, the city of Macon will sponsor an HBCU Art Series and a "Living the Dream in Worship" service at the Unity Baptist Church in Macon. On Monday, Macon will host its 29th annual Dr. Martin Luther King Jr. Breakfast Celebration, followed by a Pleasant Hill Neighborhood Prayer Walk. An annual city-wide Memorial March will convene from several community and recreation centers throughout the city, and the day will culminate with the 90th Memorial MLK Birthday Celebration at Macon's Tubman Museum.
Palo Alto, California
Palo Alto Online reports that on Sunday, January 20, the First Palo Alto, California, United Methodist Church will host an interfaith afternoon MLK Day community celebration and prayer walk featuring a guest speaker, speeches, and choral performances. On Monday, the city of Palo Alto and its Youth Community Services will host an MLK Day of Service at the city Mitchell Park Community Center, which will feature guest speakers, kids' activities, live performances, an MLK legacy display, and on-site service opportunities.
Also on Monday, for the fourth year, the city of East Palo Alto will host an MLK Day of Service and Mayor's Tree Planting in partnership with Canopy, the nonprofit tree organization. Volunteers in Palo Alto will work on hands-on projects aimed at addressing such issues as homelessness, aging, the environment, and more during the 12th annual Martin Luther King Jr. Day of Service, sponsored by The Oshman Family Jewish Community Center. Finally, on Monday, residents will convene at the Crossroads Community Church for reflection followed by a 1.6-mile walk across the pedestrian bridge that spans U.S. Highway 101.
We hope these examples help get your creative juices flowing. To share what your community is doing to celebrate MLK Day this year, or what is planned for a 2020 celebration, email lifewell@icma.org.
Additional Resources: