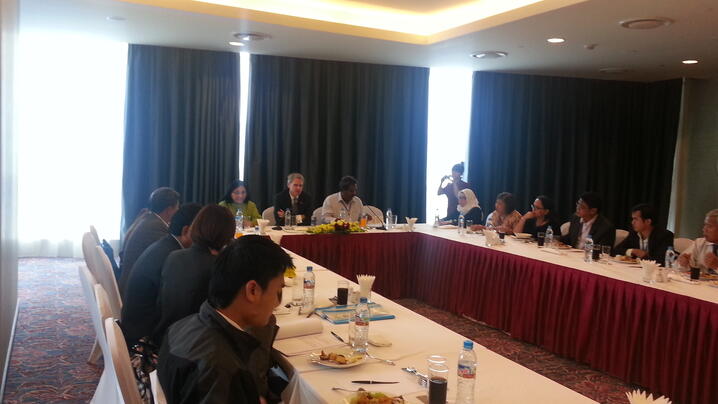 With the support of the ASEAN Secretariat and the US Mission to ASEAN, ICMA organized a side event at the 4th High Level Seminar for Environmentally Sustainable Cities held in Hanoi on the 21st and 22nd of March. The objective of the side event was to formally present the CityLinks Pilot Partnership between US and ASEAN Member States and to get feedback and input from AWGESC ( ASEAN Working Group on Environmentally Sustainable Cities) on the pilot project.
ICMA and ISC were a part of the US delegation to the seminar representing the CityLinks Program.  I was representing ICMA and ISC was represented by Scott Muller. The CityLinks Program was introduced by US Ambassador to the ASEAN, David L. Carden in his welcome remark.  Brief presentations about the pilot project were also made by Mr. Alfred Nakatsuma, Regional Environment Director, RDMA, USAID and by Dr. Montira Pongsiri, Science Advisor, U.S. Mission to ASEAN in two other plenary sessions. Ambassador Carden's introduction and the presentations helped generate interest and visibility for the CityLinks Program and the CityLinks Pilot Partnership between the US and ASEAN Member States.
The side event was conducted on March 22nd by the CityLinks team. The event was attended by the Ambassador Carden, AWGESC, ASEC, US Mission to ASEAN, RDMA, ICMA and ISC. Ambassador Carden gave the welcome remark, followed by Dr. Raman Letchumanan, Head, Environment Division, ASEC and Dra. Masnellyarti Hilman, Chairperson of the AWGESC.  This was followed by a presentation which provided the background and overview of the pilot partnership. A discussion on the planning and implementation of the pilot partnership was moderated by ICMA and ISC to solicit feedback from the working group to inform next steps.
It was a successful event and we were able to get AWGESC's input and feedback on key action items. More importantly, we were able to engage the AWGESC, who are the key stakeholders in the planning of the pilot project. We are moving ahead with preparation for the first component of the pilot project, the Climate Leadership Academy on Urban Adaptation to be held in August. We are very excited to start working on this important project.
New, Reduced Membership Dues
A new, reduced dues rate is available for CAOs/ACAOs, along with additional discounts for those in smaller communities, has been implemented. Learn more and be sure to join or renew today!