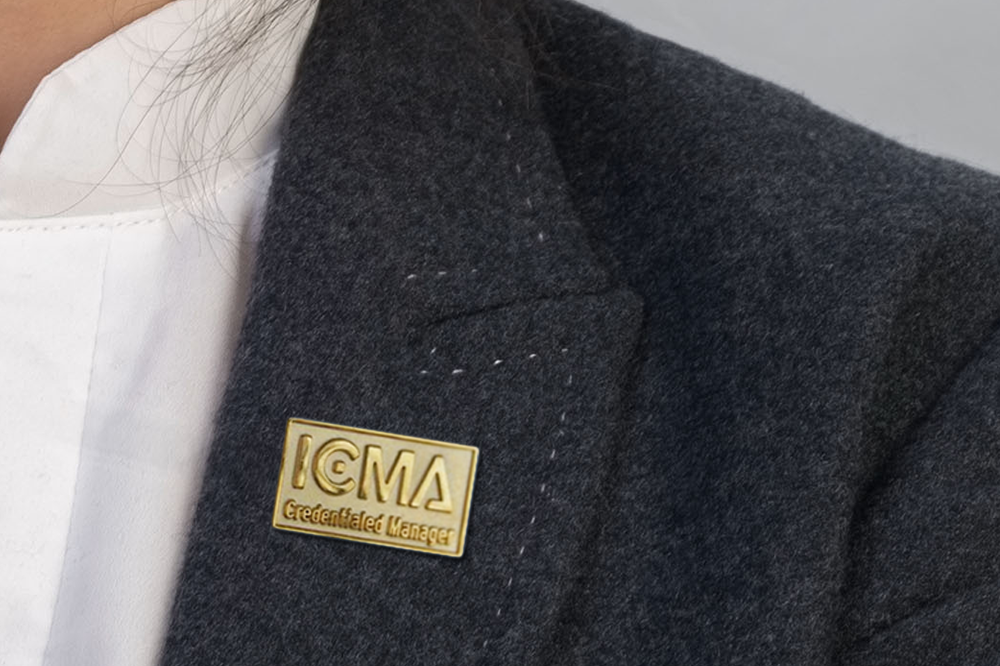 The ICMA Credentialed Manager (ICMA-CM) designation has become widely respected, frequently requested in recruitment of positions and cited in positive media coverage of public stewardship. Congratulations to the following members, who have been recommended by the Credentialing Advisory Board to receive ICMA Credentialed Manager or Candidate status in October 2023.
ICMA Credentialed Managers are professional local government managers qualified by a combination of education and experience, adherence to high standards of integrity, and an assessed commitment to lifelong learning and professional development. Objections must be filed in writing to the ICMA executive director (via credentialing@icma.org) and received by September 22, 2023. 
ICMA Credentialed Managers
Christopher Barker, Euless, TX
Adam Bell, Crystal, MN
Daniel Buchholtz, Spring Lake Park, MN
Heather Butkowski, Lauderdale, MN
Tracy Byard, Hart, MI
Brian Carter, West Columbia, SC
Toby Chappell, Greenwood SC
John Cocking, Emporia, KS
Mandi Cody, Winder, GA
J.D. Cox, Douglas, WY
Jeffrey Dahl, Wayzata, MN
Danny Davis, Middleburg, VA
Richard Derrick, Henderson, NV
Jesse Dickson, Cologne, MN
George Dunham, Sandwich, MA
Joseph Florentino, Little Elm, TX
Elizabeth Gibbs, Beaumont, CA
Travis Goedken, Decorah, IA
Kristina Handt, Lake Elmo, MN
William Johnson, Emporia, VA
Amanda Kaufman, Staunton, VA
Kevin Krouse, Belmont, NC
Marshall Labadie, Highland Beach, FL
Brian Latta, Dallas, OR
Jason Laumer, Celina, TX
Robb Linwood, Wyoming, MN
Lori Luther, Overland Park, KS
Kristine Lyndon Wilson, Inver Grove Heights, MN
Brad Martens, Shoreview, MN
Lee Mastera, Dilworth, MN
Jackie McMorris, Marietta, GA
Mick Michel, Dyersville, IA
Bryant Morehead, Maggie Valley, NC
John Mulder, Duluth, MN
Gary O'Connell, Charlottesville, VA
John O'Daniel, Atlantic Beach, NC
Marketa Oliver, Bondurant, IA
Aaron Parrish, Rochester, MN
Shane Pepe, Emmaus, PA
Rob Sabo, Rolling Meadows, IL
Jessica Seibert, Aitkin, MN
Suzanne Sherman, Palm Bay, FL
Sally Shutt, Fayetteville, NC
Angel Smith, Brooklyn Park, MN
Annita Smythe, Clearwater, MN
David Stockdale, Umatilla, OR
David Todd, Plainview, MN
Patrick Trudgeon, Roseville, MN
Victoria Yarbrough, Sierra Vista, AZ           
ICMA Credentialed Manager Candidates
Heather Abrams, Fairfax, CA
Cameron Boyle, Saratoga Springs, UT
George Bridges, Waukegan, IL
Cale Curtis, Margate, FL
Vester Davis,  Battle Creek, MI
Sharon Duca, Dover, DE
Luis Estevez, Placentia, CA
Sharon Eveland, Shorewood Hills, WI
Joseph Fawcett, Bowling Green, OH
Beau Falgout, Cedar Park, TX
Renae Fry, St Croix Falls, WI
Michael Hall, Sycamore, IL
Jeffrey Hooker, Camdenton, MO
Chelsea Jackson, Douglasville, GA
Sowande Johnson, Parkland, FL
Aaron Klima, Shorewood, IL
Benjamin McCready, Geneva, IL
Mack McDonald, Monticello, UT
Dylan Mulfinger, Oelwein, IA
Ronda Perez, Palmdale, CA
Jenice Rosado, Bay Harbor, FL
Barry Shelton, Mc Kinney, TX
Joe Warren, Belton, MO
Daniel Weeks, Holly Springs, NC
Dakisha Wesley, Asheville, NC
David Winebarger, Granite Falls, NC         
New, Reduced Membership Dues
A new, reduced dues rate is available for CAOs/ACAOs, along with additional discounts for those in smaller communities, has been implemented. Learn more and be sure to join or renew today!