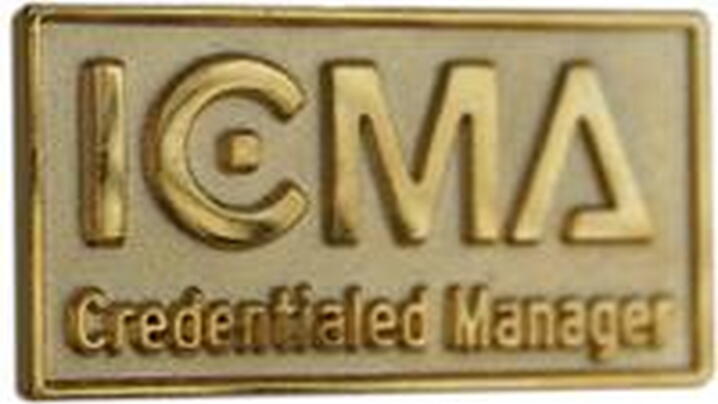 The ICMA Credentialed Manager (ICMA-CM) designation has become widely respected, frequently requested in recruitment of positions and cited in positive media coverage of public stewardship. Congratulations to the following members, who have been recommended by the Credentialing Advisory Board to receive ICMA Credentialed Manager or Candidate status in July 2022.
ICMA Credentialed Managers are professional local government managers qualified by a combination of education and experience, adherence to high standards of integrity, and an assessed commitment to lifelong learning and professional development. Objections must be filed in writing to the ICMA executive director (via credentialing@icma.org) and received by June 25, 2022. 
ICMA Credentialed Managers
Tyrell Bailey, Morgan, UT
David Burman, Haverford, PA
Phillip Crowell, Auburn, ME
Derek Davis, West Chester, PA
E. Ellington, Texarkana, AR
Howard Fink, Holland, MI
Kendal Francis, Great Bend, KS
Donna Gayden, Long Beach, NY
Juan Guerra, Gunnison, CO
Gordon Hikel, Dallas, TX
William Johnson, Emporia, VA
Jeff Jones, Hurst, TX
Maurice Jones, Springfield, MO
Christopher Ketchen, Lenox, MA
Tamara Mayzik, South Milwaukee, WI
Rodney Miller, Hickory, NC
Zachary Ollis, Tryon, NC
Erin Reinders, Unalaska, AK
Luke Reven, Downingtown, PA
Jamie Robichaud, Prairie Village, KS
Kristy Rogers, Milton, DE
Walter Smolinski, Mansfield, TX
William Sturgeon, Tavares, FL
Melissa Weiss, Wauwatosa, WI
ICMA Credentialed Manager Candidates
Audree Aguilera, Valley Falls, KS
Shaun Barnett, Woodward, OK
Raymond Bossert, Wisconsin Rapids, WI
Deborah Bowie, Gainesville, FL
Dale Bunn, Purcell, OK
James Clifford, North Augusta, SC
Marshall Eyerman, Yulee, FL
Michael Grayum, Tacoma, WA
Michael Grebosz, DeLand, FL
Rebecca Grill, West Allis, WI
Nick Kimball, San Fernando, CA
Stuart McRae, Sheridan, WY
Chandler Merritt, Fort Worth, TX
Curtis Potter, Plymouth, NC
Ethan Reimer , Halstead, KS
Derek Tuttle, Elk Point, SD
J. Christian Wuerth, Milford, MI
Neiman Young, Corpus Christi, TX
Register for the ICMA Annual Conference
Join us September 17-21 in Columbus/Franklin County, Ohio for the 2022 ICMA Annual Conference.
JOIN ICMA TODAY!
ICMA provides the tools, resources and connections to help you become part of the international network of 13,000+ local government management professionals.