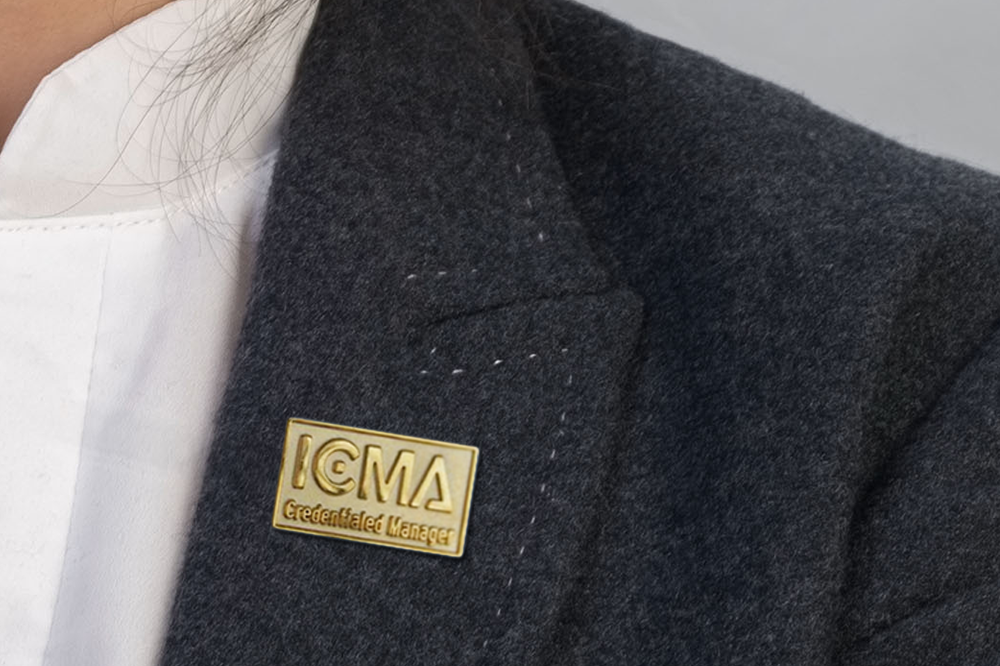 The ICMA Credentialed Manager (ICMA-CM) designation has become widely respected, frequently requested in recruitment of positions and cited in positive media coverage of public stewardship. Congratulations to the following members, who have been recommended by the Credentialing Advisory Board to receive ICMA Credentialed Manager or Candidate status in January 2023.
ICMA Credentialed Managers are professional local government managers qualified by a combination of education and experience, adherence to high standards of integrity, and an assessed commitment to lifelong learning and professional development. Objections must be filed in writing to the ICMA executive director (via credentialing@icma.org) and received by December 15, 2022. 
ICMA Credentialed Managers
Tanya Ange, Hillsboro, OR
Mario Canizares, Nacogdoches, TX
Laurence Christian, Bethel Park, PA
Kyle Coleman, Kennett Square, PA
Charlotte Colley, West Milton, OH
Catherine Crosby, Apex, NC
Chad Edwards, Shinnston, WV
Deborah Foshee, Kenner, LA
Jon Frederick, Jaffrey, NH
Jerry Gabrielatos, West Linn, OR
Michael Graese, Ashland, KY
Ken Larking, Danville, VA
Jordan Matney, New Braunfels, TX
Jennifer May, Sugar Land, TX
Chadwick McEwen, Wilmington, NC
Charles Menzies, Wichita Falls, TX
Jesus Merejo, Port St. Lucie, FL
Jeffrey Moon, Woodstock, GA
Keri Navratil, Storm Lake, IA
Nancy Newton, Springfield, OR
Patrick Niland, Monroe, NC
Craig Owens, Lawrence, KS
Aaron Palmquist, Irrigon, OR
Richard Peters, Vinton, VA
Ifo Pili, Las Cruces, NM
Mark Pruhenski, Great Barrington, MA
Charles Reed, Dallas, TX
Richard Roedner, Elon, NC
Brian Silcott, Goddard, KS
Charles Smith, Moultonborough, NH
Kurt Wilson, Sacramento, CA
Sandra Zadell , North Wales, PA
ICMA Credentialed Manager Candidates
Aretha Adams, Heath, TX
India Adams-Jacobs, Colonial Beach, VA
Jeremy Allen, Tequesta, FL
Girard Beaudin, Pleasanton , CA
Earl Bosworth, Pompano Beach, FL
Brandon Branham, Peachtree Corners, GA
Jonathan Cannon, Baker City, OR
Christopher Chittum, Roanoke, VA
Matthew Christian, Hamlet, NC
Mike Etienne, Victoria, TX
Bret Glendening, Osawatomie, KS
Andrew Goals, Charlton, MA
Sarah Hadd, Fairfax, VT
Foster Hughes, New Bern, NC
Aric Jensen, West Columbia, SC
Benjamin Krumenauer, Bellevue, WI
Teresa Lamar-Sarno, Port St. Lucie , FL
Kyle Michel, Ashland, MO
Rachelle Moody, North Augusta, SC
Melissa Murphy-Rodrigues, Danvers, MA
Marc Orlando, Hilton Head Island, SC
Frederick Perry, Douglasville, GA
Eden Ratliff, Mendenhall, PA
Jason Reynolds, Baytown, TX
Stephen Ruger, Trinidad, CO
William St. John, Marysville, KS
Elizabeth Stahlman, Frostburg, MD
Freda Starnes, Gate City, VA
Evan Walter, Burr Ridge, IL
Mark Whitfield, Milford, DE
Brandon Zuidema, Morrisville, NC
New, Reduced Membership Dues
A new, reduced dues rate is available for CAOs/ACAOs, along with additional discounts for those in smaller communities, has been implemented. Learn more and be sure to join or renew today!