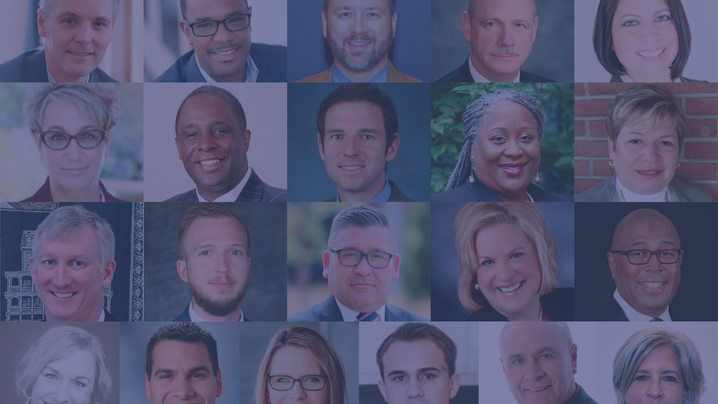 The ICMA Executive Board met in La Jolla, California, December 9-11, 2021, for its quarterly meeting. Here is a rundown of the board's most significant actions.
Member Feedback on ICMA Initiatives
President Troy Brown provided board members with a report on a meeting held November 11 in Washington, D.C., with a group of ICMA members expressing concerns about the perceived direction that ICMA is taking. Issues raised included: ICMA's statement on racial equity and social justice and associated initiatives; the process for selecting regional vice presidents to serve on the ICMA Executive Board; the process for selecting annual conference sessions and speakers; the PM magazine editorial process; and transparency of board meetings, among others. The board agreed to begin a series of member engagement efforts, both at the 2022 ICMA Regional Conferences, as well as at this year's state association meetings, in order to obtain feedback from ICMA's membership that will allow the board to make informed decisions regarding the best approach for ICMA's continued efforts in these areas. The board will discuss this member feedback at its June 2022 quarterly meeting and will issue a statement to ICMA's membership to explain its decision regarding how it intends to move forward. 
Recommendations Regarding ICMA's Membership Dues Structure
In November 2020, ICMA hired McKinley Advisors to help the association obtain member feedback and develop a new dues model that will allow ICMA to both build membership and be financially sustainable, while providing value to members. The executive board was joined by Caroline Baugher from McKinley, who provided preliminary recommendations on proposed changes to ICMA's membership dues structure. The board's Membership and Finance committees will work in the coming months to refine the recommendations before presenting a final recommendation on a new dues structure for ICMA at the board's next quarterly meeting in February 2022. 
Presentation on ICMA's Strategic Partner and Sponsorship Program
Representatives from ICMA's consultant, JSB Partners, joined the board to provide a presentation on their work to help ICMA create a more robust Strategic Partner and Sponsorship Program, focusing on building more stable, long-term relationships with enhanced revenue potential.
Results of ICMA's 2021 Annual Conference
ICMA's director of conferences and events, Jeremy Figoten, provided the board with a report on the preliminary results of the 2021 ICMA Annual Conference held in Portland, Oregon. Notably, there were zero cases of any attendee testing positive for COVID-19, either during the event or post-conference. The in-person registrations in Portland were 48 percent of those in Nashville (2,664 vs 5,537); however, when digital conference registrations were factored in, attendance rose to 71 percent compared to Nashville (3,925 vs 5,537). Post-conference evaluations revealed that, despite all of the obstacles and challenges of planning the event, attendees were overwhelmingly thankful and positive.
Reappointments to the MissionSquare Retirement Board of Directors
The board unanimously approved the reappointment of Lee Feldman (constituent representative) and Cynthia Steer (industry expert) to second, four-year terms beginning January 1, 2022, on the MissionSquare Board of Directors.
Report on FY 2021 Audit
The board reviewed the completed results of the FY2021 audit, conducted by GRF CPAs & Advisors. ICMA achieved a clean audit, with auditors determining the association's financial statements were free from misstatements and reportable findings.
Priorities for Consideration in the Development of the FY2023 Budget
At the recommendation of the Finance Committee, the board approved a set of 11 priorities to guide staff in the development of ICMA's FY 2023 budget, which will be presented to the board for approval at its June 2022 meeting. Those priorities are global development and engagement; implementation of a new dues structure; continued support of the Code of Ethics review efforts; racial equity and social justice; Transformation 2030; local government management and policing; professional development for the future; revenue enhancement; adaptive workplace; agile information technology; and remaining an employer of choice. 
Update on Code of Ethics Review Effort
In May 2021, ICMA selected the University of North Carolina at Chapel Hill to help the association objectively assess the Code of Ethics to better integrate ICMA's commitment to racial justice and equity. Two in-person meetings with members were held at the 2021 Annual Conference in Portland to obtain feedback on ways to better integrate the profession's ethical commitment into the Code. The next step in the scope of work is to continue member dialogue at ICMA's 2022 Regional Conferences and at the three virtual meetings open to all members. We have invited state associations to convene a session at their upcoming conferences as well.  Member feedback will inform a survey to ICMA members planned for summer 2022. Learn more about this effort and sign up for a virtual session here
2021-2022 Committee Work Plans
The chairs of the board's four standing committees (Membership and External Outreach; Audit, Finance, and Business Operations; Committee on Professional Conduct; and Global Vision and Collaboration) provided the board with a report on their planned work plan goals and objectives for the coming year.