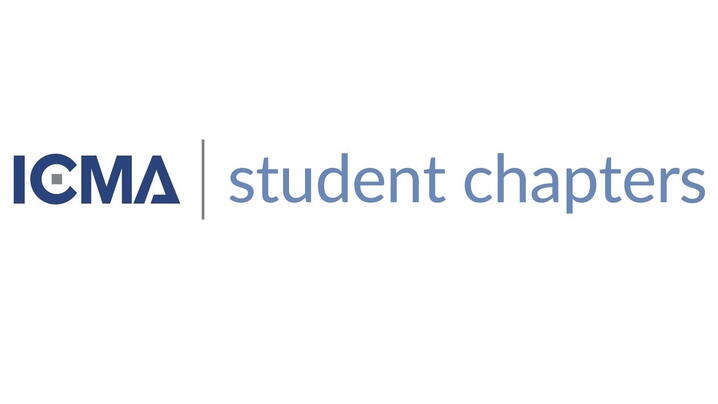 With the end of another school year, ICMA is sharing the results of this year's ICMA Student Chapter Best Event Contest. With this annual contest, ICMA shows its support for ICMA student members and all the work they do throughout the year to engage students who aspire to join the local government profession. Each year, the Best Chapter Event Contest awards four ICMA Student Chapters with travel funds to attend the ICMA Annual Conference. Chapters present their most successful event of the year to members of the ICMA Executive Board highlighting topic, involvement, and impact, with a special focus on innovation this year. This year's winners are Grand Valley State University, Central Michigan University, the University of Arizona, and the University of Georgia. 
Grand Valley State University and Central Michigan University are the two first place winners for their joint virtual conference, "Michigan Emerging Leaders Student Local Government Conference." This was the first time these chapters came together to create an event of this size, with over 100 participants. The goal of the conference was to provide students and emerging local government leaders with meaningful professional development and networking opportunities by bringing them together with current local government leaders at different points of their career. The event consisted of four parts, starting out with a presentation by retired finance director Karen Lancaster, of Ann Arbor, titled "8 Things About Finances Every Local Government Manager Should Know." There was a round of presentations by representatives from a variety of state and national affiliate organizations and time for breakout rooms around topics in local government management. The event concluded with a labor negotiation simulation activity written by Muskegon city manager Frank Petersen, in which students practiced collective bargaining. 
University of Arizona is one of two second place winners for their four-part webinar series "Student Connections: 4 Steps in Your Public Service Career." The webinars included an opening panel event with MPA and MPP alumni, a mentorship program between alumni and current students, a speaking event with ICMA member Darin Atteberry, and concluded with a virtual panel of four regional local government professionals. The series engaged approximately 60 attendees across all events. The attendees established new professional relationships, created mentorships, and learned about the dynamics of municipal management. 
University of Georgia is the other second place winner for their Black Professionals Panel. In recognition of Black History Month, the UGA ICMA Student Chapter held a panel highlighting the voices and experiences of four Black professionals in the state of Georgia: Antonio Brown (Atlanta city councilmember), Krystle Cobran (inclusion officer of Athens-Clarke County Unified Government), Nathaniel Smith (founder and chief equity officer of Partnership for Southern Equity), and Tangela Beard (executive director of Project Safe). For this event, the ICMA Student Chapter at the University of Georgia garnered the support of the University of Georgia Graduate Student Association, the UGA Student Chapter of the Young Nonprofit Professionals Network, and the School of Public and International Affairs Honors Society of Diversity, Equity, and Inclusion. This collaboration allowed the event to reach even more students to introduce them to local government and how various public service professions can positively impact local communities.
 
Read more about all of the submissions in the contest submissions report. 
Want to learn more about the events and activities of all the ICMA Student Chapters this year? Check out the collection of 2020-2021 Annual Reports.
Register for the ICMA Annual Conference
Join us September 17-21 in Columbus/Franklin County, Ohio for the 2022 ICMA Annual Conference.
JOIN ICMA TODAY!
ICMA provides the tools, resources and connections to help you become part of the international network of 13,000+ local government management professionals.