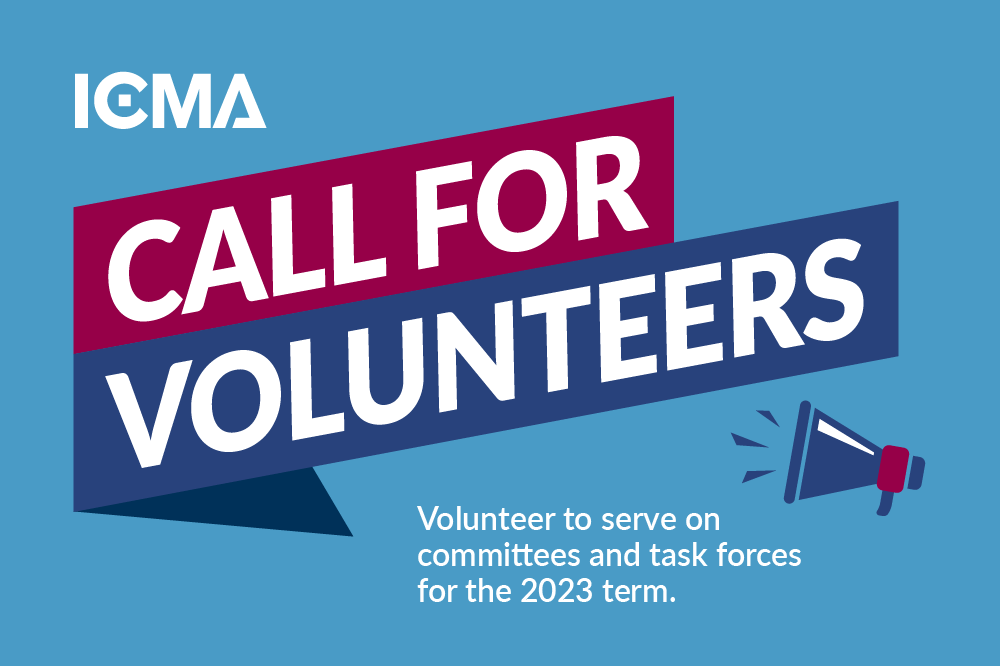 The Call for Volunteers to serve on ICMA Committees and Task Forces is open, providing members with an opportunity to make a valuable contribution to the profession. Most meetings of the groups will be virtual in 2023. Kick off meetings will begin in the months of September and October.
Committees and Taskforces
Member committees and taskforces draw on the expertise and interests of a broad cross section of the membership to study issues of interest and importance to local government and to the profession. They also provide opportunities for member connection, networking, and professional development.      
Consider getting involved with one of the following initiatives:
Assistant Chief Administrative Officers Committee (formerly Deputies and Assistants Committee)
Awards Evaluation Committee 
Conference Planning Committee
Digital Strategies Committee
Governmental Affairs and Policy Committee
Graduate Education Committee
Harvard Kennedy School Committee
Performance Management Committee 
International Committee
ICMA Welcome Ambassadors
Smart Communities Committee
Sustainable Communities Committee 
Veterans Committee
New Task Force for 2023-2024
Task Force to Update and Revise the ICMA Guide to Breaking into Local Government
To express your interest in serving on these member initiatives, login to your ICMA account here, find the "My Committee Nominations" link in your profile, and submit your application by April 14, 2023. View step-by-step instructions below:
Log into your ICMA Profile here (log in is required.)
Navigate to "My Volunteer Opportunities" via the Committee Tab.
Make your selections and click "Save."
After you have submitted your selections, they should be viewable under the "My Volunteer Opportunities" link. 
If you are not able to view your submitted selection, send an email to membership@icma.org.
Other Ongoing Volunteer Opportunities
Become a Coach
Become a Legacy Leader  
Host a Southeast Asian, Local Government, or Veteran Fellow
U.S. and international pro bono opportunities
Learn more about these other volunteer opportunities.
New, Reduced Membership Dues
A new, reduced dues rate is available for CAOs/ACAOs, along with additional discounts for those in smaller communities, has been implemented. Learn more and be sure to join or renew today!