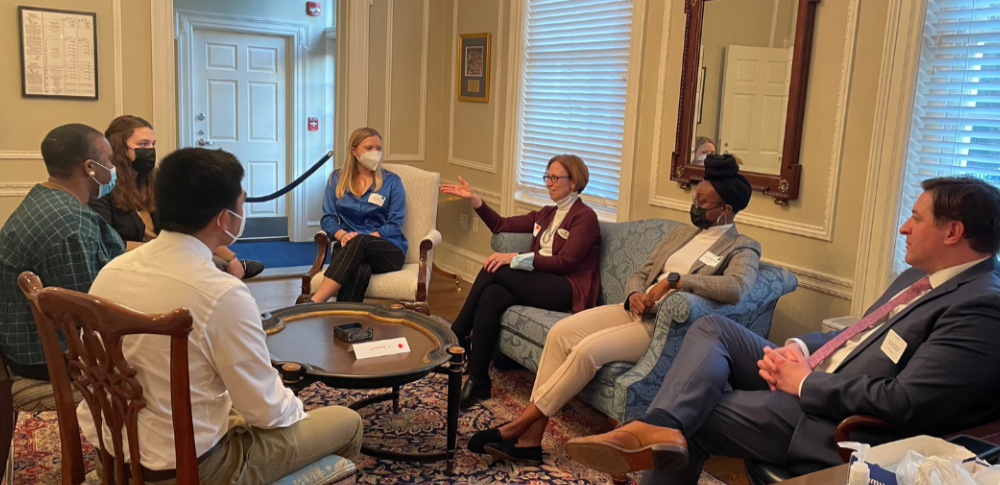 With the end of another school year, here are results of the ICMA Student Chapter Best Event Contest. Through this annual contest, ICMA shows its support for ICMA student members and all the work they do to engage students who aspire to join the local government profession. Each year, the Best Chapter Event Contest awards a select few ICMA Student Chapters with travel funds to attend the ICMA Annual Conference. Chapters present their most successful event to members of the ICMA Executive Board, highlighting topic, involvement, and impact, with a special focus on innovation this year. This year's winners are the University of Delaware, Brigham Young University, and San Francisco State University.
The University of Delaware is the first place winner for its "UD ICMA Student Chapter Speed Coaching & Networking Event." The UD ICMA Student Chapter invited undergraduate and graduate students from the Biden School of Public Policy & Administration to participate in its Speed Coaching and Networking Event in February 2022. The event mirrored ICMA's speed coaching, a fast-paced professional development experience where students can learn more about local government career pathways, develop professional connections, and seek advice from volunteer "coaches" who work or have worked in the profession. They used a "bullpen" approach to take the pressure off, making it a little less formal while creating an interactive professional setting. All participants were given guidelines and questions/prompts to initiate the conversations. The event also included networking opportunities before and after the coaching session. With 24 UD students and 10 local government professionals (coaches), this impactful experience sparked students' aspirations to explore local government career opportunities in management, planning, human resources, procurement, and ICMA's Local Government Management Fellows program.
Brigham Young University is the second place winner for its live Zoom webinar "How to Create a New Form of Municipal Government & How to Create and Maintain an Ethical Culture" with Salvador Torres, executive director of ICMA Mexico. The BYU Student Chapter invited student chapters from across the western United States to a watch party hosted by their professor, where many students brought appetizers from across the world to share. Torres shared a summary of his work, how he strived to build and maintain ethical culture and conduct, and offered insights into working in local government internationally. The webinar engaged approximately 30 attendees virtually and at the watch party, where students wanted to better understand the international component of ICMA. Torres provided an engaging and inclusive presentation, and he extended an invitation to MPA students interested in coming to Mexico over the summer and helping with his work. The attendees appreciated the international perspective the event brought to their local government education and Torres' inspirational words on the importance of ethics in local government. The BYU Student Chapter hopes to include more international perspectives in its events in the future. 
San Francisco State University is the third place winner for its "Breaking into Public Service" virtual panel. The SFSU ICMA Student Chapter held a virtual panel aimed at introducing students to the experiences of four public service panelists and allowed students to gain insights into career direction and tips for landing roles. SFSU President Steven Lee moderated a panel composed of Jim Schutz, city manager, San Rafael, California; Jessica Paran, social services division director, Marin County, California; Aaron Zavala, senior management analyst, Petaluma, California; and Ahmad Anderson, director of people and culture at SF JAZZ in California. With 26 students attending the event, the conversation ranged from concrete, technical tips for new graduates, to the acknowledgment of a changing post-pandemic workplace, to inspiring reflections on the value of public administration. The event was a success, with panelists giving students honest assessments of the state of local governance and its need for new talent. The chapter also gained new student chapter members from the event.
New, Reduced Membership Dues
A new, reduced dues rate is available for CAOs/ACAOs, along with additional discounts for those in smaller communities, has been implemented. Learn more and be sure to join or renew today!