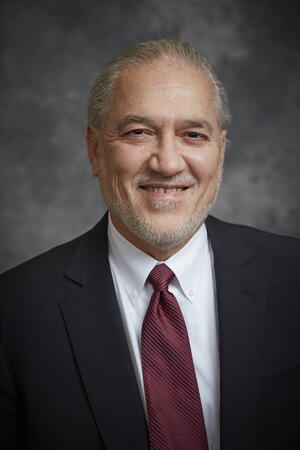 After an illustrious and successful career as a city manager in two large cities, Teodoro (Ted) Benavides has turned his focus to academia, where he continues to have an impact on the lives of future public servants as an educator. Benavides was city manager in Denton, Texas, from 1996 to 1998 and in Dallas from 1998 to 2004, gaining practical experience that informs his teaching.
As an associate professor of practice in the Public and Nonprofit Management (PNM) department in the School of Economic, Political and Policy Sciences at the University of Texas at Dallas (UTD), he teaches undergraduate and master's level courses in urban planning, financial management, economic development, budgeting, ethics, and other subjects that are fundamental to local government management. In 2018, students in the department voted him Outstanding Undergraduate Instructor of the Year, and he received the 2020 Educator of the Year award from the National Forum for Black Public Administrators.
Because of his grounding in practice and his ongoing interaction with city leaders nationwide, Benavides can help students navigate working in the public and nonprofit sectors, provide career advice, and help students land public service positions and manage career moves. He is the school's program liaison to the City Managers of Tomorrow Committee of the Texas City Management Association (TCMA) and serves the PNM department as MPA director, graduate certificate coordinator, and intern coordinator. Thus, he is positioned to tap a sizable network to place students in internships and help them secure permanent positions after graduation. TCMA named him Academician of the Year in 2017, and he received the 2020 Outstanding Community Outreach and Engagement Award from his school at UTD.
Benavides was elected as a fellow of the National Academy of Public Administration in 2000 and was named Public Administrator of the Year by the North Texas Chapter of the American Society for Public Administration (ASPA) in 2004. In 2020 he received ASPA's Paul Van Riper Award for Excellence and Service. He was president of the ASPA chapter from 2011 to 2016.
Although it is not a requirement of his position, he maintains an active research and publishing agenda, which adds to the body of knowledge in public administration. He has co-authored articles published in top peer-reviewed journals and has published three books that are designated as part of the ASPA book series. His book Practical Human Resources Management for Public Managers: A Case Study Approach has been adopted by prestigious libraries worldwide. Books on local government management and human resource information systems are under contract.
Benavides's peers cite him for his servant leadership style, his low-key profile, and his contributions to public service as a practitioner and an academic. They praise him as a humane and inspirational leader who brings tremendous value to his students, his program, his school and university, and the larger public administration profession.