Dr. Carl Stenberg
James E. Holshouser Jr. Distinguished Professor of Public Administration and Government, School of Government, University of North Carolina at Chapel Hill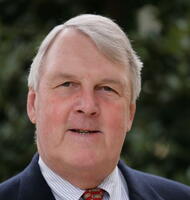 During his 50-year career, Dr. Carl Stenberg has served city and county governments in North Carolina and the nation—recruiting talent to pursue local careers, teaching graduate students, establishing executive leadership development programs, and writing about local issues and trends.
His academic positions include dean at the University of Baltimore, director of the Weldon Cooper Center for Public Service at the University of Virginia—home of the Senior Executive Institute—and MPA director at UNC Chapel Hill. Prior to his academic career, Dr. Stenberg served in senior positions at the U.S. Advisory Commission on Intergovernmental Relations and as executive director of the Council of State Governments. In nominating Dr. Stenberg for honorary membership, an ICMA member wrote:
"Carl has provided a lifetime of service to our profession. He's a rare academic who understands the theoretical foundations of management and leadership, but who is also steeped in the practical aspects, especially at the local government level."
At UNC Chapel Hill, he led the creation of the Public Executive Leadership Academy, which has served hundreds of local government professionals, and was instrumental in establishing an ICMA student chapter. He serves as the school's liaison with the North Carolina City and County Management Association. He has made significant contributions to ICMA textbooks and reports, notably as co-editor of Managing Local Government Services: A Practical Guide and author of two Governmental Affairs and Policy Committee white papers.
Dr. Stenberg is a Fellow of the National Academy of Public Administration and former president of the American Society for Public Administration (ASPA). He received the Donald C. Stone Practitioner and Academic Awards from ASPA for contributions to intergovernmental management, the Louis Brownlow award from ASPA for the best article by a practitioner in Public Administration Review, and the Stephen B. Sweeney Academic Award from ICMA for contributions to the education of students pursuing local government careers.
Register for the ICMA Annual Conference
Join us September 17-21 in Columbus/Franklin County, Ohio for the 2022 ICMA Annual Conference.