Dr. Edwin C. Daley, ICMA-CM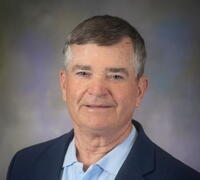 In a local government career spanning 46 years, Edwin Daley has directly served communities in four states, the local government management profession, and ICMA. He currently serves as interim county administrator for Warren County, Virginia. Before that, he was interim city manager and part-time assistant city manager in Emporia, Virginia, following city manager positions in Dodge City, Kansas; Fairmont, West Virginia; and Winchester and Hopewell, Virginia. He is an ICMA Senior Advisor, lending his expertise and experience to colleagues.
Daley has been a leader in ICMA as a regional vice president and president and a member of more than a dozen boards, committees, and task forces, including the Credentialing Advisory Board and the International Committee. He teaches in ICMA's development programs for emerging and mid-career managers, and ICMA has recognized him with the Award for Career Development in Memory of L. P. Cookingham, the in-Service Training Award in Memory of Clarence E. Ridley, and a Community Partnership Award.
"He is the epitome of a public servant through his dedication and commitment to community."
The Ridley Award recognized Daley's commitment to professional development for city staff in Winchester, where he ensured that training funds were always available. One initiative enabled staff to lead a community project that culminated in an All-America City award in 2005. Daley promoted ethics training for employees and council, and enriched the city and the staff by embracing international connections, including an ICMA CityLinks relationship with Karlova, Bulgaria.
Daley earned a doctorate in public administration, is a National Academy of Public Administration Fellow, and has taught courses at six colleges. He is currently a professor of practicum and teaches in the MPA Program at Regent University. He has been president of the Virginia Municipal League and the Virginia Local Government Management Association. Daley has earned praise as "a professional mentor and a friend, a person who is always there when you need him." He mentored ICMA Local Government Management Fellows in 2004 and 2005 and has continued to support their careers. Said a colleague,