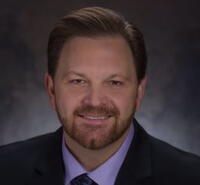 William E. Bell, ICMA-CM
City Manager
City of Montrose, Colorado 
William (Bill) Bell has distinguished himself as a true champion for women in local government, During his nine-year tenure in Montrose he hired and mentored talented women who have since gone on to succeed in leadership positions. 
"I think as a city manager a lot of times we focus on what we've done for the community or what we can do for the community, and it is really easy to forget about the work that everyone around you is doing, and so to get an award like this that is based on the development of those around you is just really personal to me and it is really impactful."
Bell's attentiveness to supporting, mentoring, and advancing women in local government is demonstrated in some outstanding examples:
Erica Weeks: Weeks was hired by Bell as grant coordinator/competitive sports coordinator, a role that quickly expanded to more fully engage her potential. With his encouragement, she earned an MPA degree and became the executive director of Habitat for Humanity of the San Juans.
Terri Wilcox: Bell hired Wilcox as human resources director and encouraged her to pursue additional leadership training and roles in the community. Wilcox now serves on the board of directors of All Points Transit, a nonprofit that provides transit services.
Lisa Kuczmarski: Bell hired Kuczmarski as a human resources generalist and encouraged her to pursue a master's degree. The Colorado Intergovernmental Risk Sharing Agency recognized Kuczmarski with its Safety Champion Award in 2019.
Chelsea Rosty: Hired by Bell in a community development position, Rosty advanced to a senior position. Bell mentored her in community engagement and the navigation of political environments and encouraged her to pursue a master's degree. 
Ann Morgenthaler: Bell hired Morgenthaler as assistant city manager and urged her to run for a statewide board position. She currently serves on the board of Downtown Colorado, Inc.
Barbara Bynum: Bell encouraged Bynum, Montrose's mayor, to run for a position on the Colorado Municipal League executive board. She currently serves in that capacity. 
Melanie Hall: She is the executive director of The PIC Place, an integrated healthcare clinic for the underserved and credits Bell for his mentorship, collaboration,  
Jen Coates: When Coates was town manager in Ridgway, Colorado, Bell offered professional mentorship and worked with her on regional collaboration. 
Lisa DelPiccolo: Bell encouraged DelPiccolo to run for the Colorado Municipal Clerks Association executive board. She achieved this goal and served as board president.
Bell's leadership in career development has played out in the context of his many other accomplishments as city manager. He has led the city in economic and community development, passage of a sales tax initiative to support public safety, advancements in communication and community outreach, and numerous organizational improvements. Many initiatives have been headed by women. Bill also champions the Montrose Youth City Council, taking great care to ensure that each student leaves the program better prepared. 
Bell is a past president of both the Colorado City & County Managers' Association and the Colorado Municipal League and a member of ICMA's Governmental Affairs and Policy Committee. An active Rotarian, he is part of the Rotary Youth Exchange Program and sits on the committee that interviews outbound exchange students. 
Register for the ICMA Annual Conference
Join us September 17-21 in Columbus/Franklin County, Ohio for the 2022 ICMA Annual Conference.