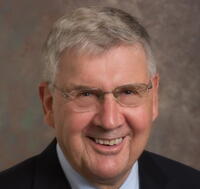 Dr. Jerome R. Lewis 
Director, Institute for Public Administration, University of Delaware
Newark, Delaware
At an age when most people are decades into their retirement, Dr. Jerome Lewis continues to innovate and inspire a new generation of public administrators—including local government professionals. In fact, the word "retirement" is not even in Dr. Lewis's lexicon. He quietly marks a half-century of public service at the University of Delaware (UD) and remains active teaching, mentoring, and leading several programs in his octogenarian years.
Dr. Lewis joined the university faculty in 1969 and four years later founded the Institute for Public Administration (IPA). In 1975, he helped establish UD's well-regarded Master of Public Administration (MPA) program and became its director. He also established the Local Government Training Program to build the capacity of local leaders, supported the launch of an ICMA student chapter in 2018, and founded several fellowship programs. In 2020, while reprising his role as MPA program director on an interim basis, Dr. Lewis led the charge to establish a new specialization in state and local government management.
In 1982, Dr. Lewis created the Legislative Fellows Program, a flagship internship program that links the research needs of the state legislature with university students, who work directly with legislators on complex public policy issues. 
The ICMA Student Chapter won first place in ICMA's best student chapter event contest in 2019 for its tour of the Rehoboth Beach municipal complex. The chapter broke the mold with its submission, creating a Web page to showcase the event. 
Dr. Lewis launched the summer Local Government Management Fellows (LGMF) Program as a career development opportunity for talented emerging professionals. It enables students to translate a passion for public service into practice through placements with city and town managers in Delaware.
He has received numerous awards and accolades. In 1998, he received NASPAA's Elmer B. Staats Public Service Career Award, which recognizes faculty who inspire students to pursue public service careers. In 2004, the Ratledge family presented him with its Award for Delaware Public Service, which honors individuals who exemplify excellence in public service to Delaware citizens. The Delaware Senate and House of Representatives honored him for his dedication to public service, specifically his founding of the Legislative Fellows Program. In 2011, he received the Public Service Achievement Award from Common Cause. And in 2017, he received ASPA's Elmer B. Staats Lifetime Achievement Award for Distinguished Public Service.
Dr. Lewis is an exceptional leader who is widely recognized for his contributions to developing public service professionals and the policy, planning, and management needs of various partners throughout the state of Delaware. In his nomination of Dr. Lewis for his 2011 Public Service Achievement Award, Dr. Jeffrey Raffel, former professor at UD and board member for Common Cause Delaware, said, 
"Under Dr. Lewis's leadership, IPA has a strong record of engaging graduate and undergraduate students in research and technical assistance projects on topics in fields such as water resources, transportation, education, women's leadership, conflict resolution, planning and economic development, and democracy—that is, just about every issue critical to Delaware in the last four decades."