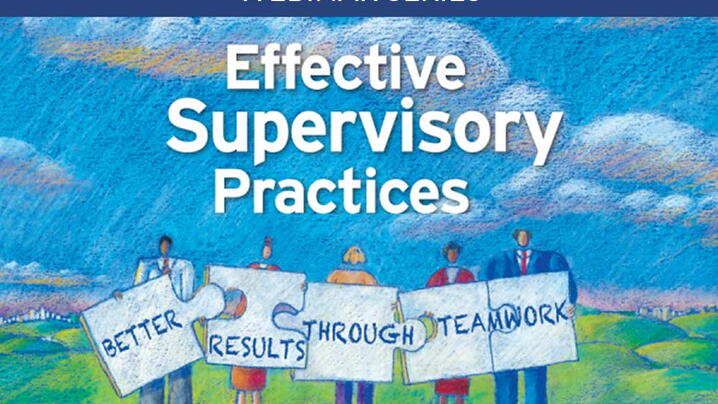 Leading and managing a community and staff can be an all-consuming challenge that leaves little time for local government supervisors to focus on their personal growth. Now, in a state-of-the-art online classroom, the Effective Supervisory Practices Webinar Series makes it easy to bring practical supervisory training to your jurisdiction without the high costs of hiring consultants.
Through six on demand webinars, this series enables attendees to learn:
The difference between leading and managing
The tools to assist with establishing priorities and focusing work
How to hire the right people for your organization
The role in fostering a safe, harassment-free work environment
How good supervisors can motivate employees to become productive and fulfilled
How to turn a group of employees into a highly functioning team
What is the Effective Supervisory Practices Webinar Series?
This interactive webinar series will demonstrate principles covered in Effective Supervisory Practices (5th Edition). Hosted by experienced managers and local government experts, this program is designed to impart real-life experience, best practices, and sound advice in the areas most important to a manager's day-to-day role.
Who is Right for the Program?
The Effective Supervisory Practices Webinar Series is designed as a primer for new supervisors. It not only offers pragmatic recommendations about the day-to-day duties of a supervisor, but also offers guidance for addressing the more complex challenges all managers confront as they seek to effectively communicate, motivate, and model ethical decisions to lead a team.
Required Reading
The Effective Supervisory Skill Building Training Course is required reading and is available for $84.00 (members); $110.00 (nonmembers). It can be ordered through the online bookstore or via the following methods:
Email: Orders@icma.org
Telephone: 1-888-280-2370
Regular Mail: ICMA Publications, Attn: Accounts Receivable, 777 North Capitol, NE, Ste. 500, Washington, DC 20002
Program Details 
All programs are available on demand.
Fee: 
SINGLE LOG-IN FROM ONE ROOM: Purchase single access to view in one office or conference room by yourself or in a group. Only one log-in and completion certificate will be issued. Price: $795 (member)/$1095 (nonmember)   (Join ICMA)
MULTIPLE STAFF LOG-INS: Allow your staff to participate from their own device whenever they want, wherever they are. This function adds individual quizzing and custom certificate printing. Purchase in groups of 10, 25, 50, 75, 100, 200 and 300 and train your staff for as low as $17.65 per person! Pricing (per office, not per person): 10 participants=$945 member/$1295 nonmember; 25 participants $1170 member/$1595 nonmember; 50 participants $1545 member/$2095 nonmember; 75 participants $1920 member/$2595 nonmember; 100 participants $2295 member/$3095 nonmember; 200 participants $3795 member/$5095 nonmember; and 300 participants $5295 member/$7095 nonmember.
*ICMA members are encouraged to register their staff under their member number to receive the discounted rate. Members do not need to participate themselves in order for their jurisdiction to receive the discounted rate.
Purchase 10 Log-Ins Purchase 25 Log-Ins Purchase 50 Log-Ins
Purchase 75 Log-Ins Purchase 100 Log-Ins Purchase 200 Log-Ins Purchase 300 Log-Ins
Practices for Effective Local Government Leadership
This webinar series covers the following ICMA Practices for Effective Local Government Leadership: [1] Personal and Professional Integrity, [4] Staff Effectiveness, [5] Personal Resiliency and Development, [6] Strategic Leadership, [7] Strategic Planning, [12] Financial Management and Budgeting, [13] Human Resources Management and Workforce Engagement, [14] Communication and Information Sharing