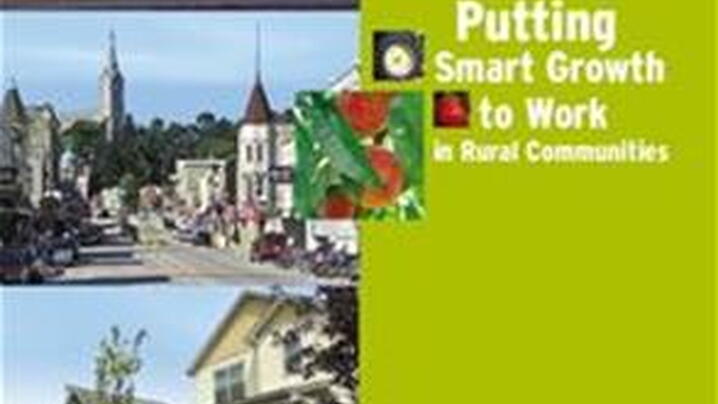 Rural communities and small towns are often portrayed in iconic Jeffersonian terms, when the reality is often quite divergent from mainstream notions.  Like other communities more urban in nature, small towns and rural America are facing myriad challenges, ranging from job and population losses in many places to development pressures and changing landscapes in others.  Access to jobs, services, and transportation options are often limited.  Furthermore, small towns and rural communities often have limited local government service delivery and planning capacity.  Small towns and rural communities with village, town and county managers are a core constituency of ICMA.  In the United States there are more than 6,500 communities with a population between 2,500 and 50,000 and there are thousands more small places where fewer than 2,500 people reside.  More than 4,000 ICMA members currently work in communities with less than 50,000 full time residents.
In partnership with the National Association of Development Organizations, the National Association of Counties and others, ICMA has provided technical assistance and support to small towns and rural places that are engaged in the HUD-funded regional sustainability planning grants.  As part of this project, ICMA developed white papers on topics such as asset based economic development and delivered other content through forums such as webinars and web workshops as well as other resources developed through other projects including ICMA's most often downloaded publication--Putting Smart Growth to Work in Rural Communities.
Putting Smart Growth to Work in Rural Communities
Putting Smart Growth to Work in Rural Communities: This report focuses on smart growth strategies that can help guide growth in rural areas while protecting natural and working lands and preserving the rural character of existing communities.  These strategies are based around three central goals: 1) support the rural landscape by creating an economic climate that enhances the viability of working lands and conserves natural lands; 2) help existing places to thrive by taking care of assets and investments such as downtowns, Main Streets, existing infrastructure, and places that the community values; and 3) create great new places by building vibrant, enduring neighborhoods and communities that people, especially young people, don't want to leave. This report was developed under a cooperative agreement with the U.S. EPA.
Asset-Based Economic Development Resources
ISSUE BRIEFS:
Asset-Based Economic Development Briefing Papers (.pdf):  This six-part series of briefing papers explores asset-based economic development focusing on how small towns and rural communities can build on their natural and working landscapes, local institutions, existing infrastructure, historic and cultural resources, industry clusters, and human capital.
Defying the Odds: Sustainability in Small and Rural Places (.pdf): This briefing paper offers short case studies and lessons derived from a minority of small communities who made strides protecting the environment despite the odds against them.
PODCASTS:
Leveraging Transportation Networks for Economic Development (.mp3): This podcast provides insight into how the small, rural City of Bend in Central Oregon capitalized on its existing transportation infrastructure for sustainable economic growth. (Length: 10 minutes, 21 seconds).
Asset-Based Economic Development for Small & Rural Communities: Ag-Based Renewable Energy (.mp3): This podcast details how Kandiyohi County, Minnesota leveraged its agricultural industry and abundant natural resources to cultivate its agricuturally-based renewable energy industry.  Kandiyohi County Economic Development Commission Executive Director, Steve Renquist, and Agri-Business and Renewable Energy Development Specialist, Lee Petersen, share their experiences in promoting the industry, including strategies, challenges, benefits, and future plans.  (Length: 27 minutes, 13 seconds).
WEBINAR:
Funder:  NADO through contract with HUD
JOIN ICMA TODAY!
ICMA provides the tools, resources and connections to help you become part of the international network of 13,000+ local government management professionals.