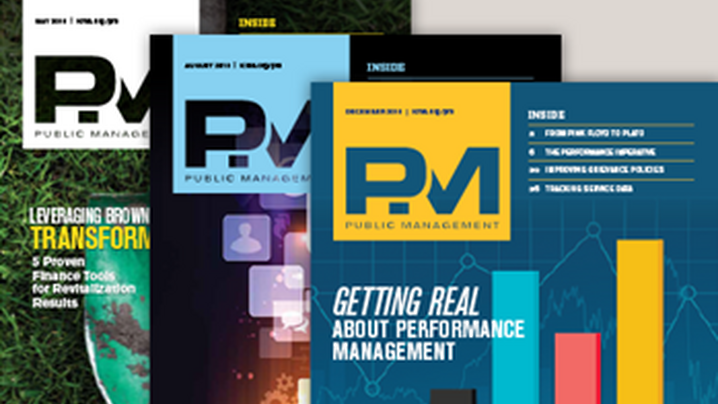 Public Management (PM) is the official magazine of ICMA, with a track record of 100 years as a trusted source of local government management information. PM is dedicated exclusively to the public sector practitioner. Designed for quick and informative reading, articles deal with issues of common concern to local government administrators.
The print magazine's editorial purpose is aligned with ICMA's mission, which is to create excellence in local government by developing and fostering professional local government management worldwide. Each issue contains feature articles that focus on local government operations from the real perspective of chief appointed officials and other management practitioners who provide financial, public safety, technology, and human resource services, among others.
Editorial content is recommended and often reviewed by local government managers. Articles are written by experts in the field, experienced local government professionals, and observers who have firsthand knowledge of the topic they are writing about.
The online version has the same editorial focus and posts articles found in the print issue, along with premium content, except when permission to reprint online is not received from other sources. It also includes exclusive online articles in a PM+ section. 
Please visit PM magazine to read the online version or search the archives at icma.org/pm.
Register for the ICMA Annual Conference
Join us September 17-21 in Columbus/Franklin County, Ohio for the 2022 ICMA Annual Conference.