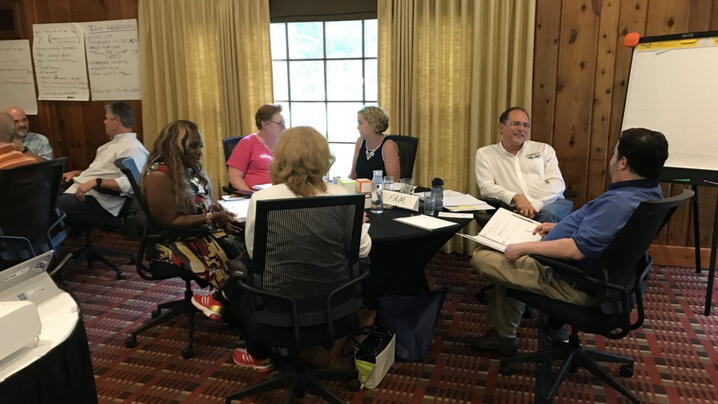 Kick-off retreat June 11 to 16, 2023
The Athenian Project, designed by tenured ICMA members, is a premier leadership development opportunity for senior level public sector executives. The program was created to provide an opportunity for executive managers to delve into the big issues and the major challenges that impact local government and society, while providing space to explore individual or personal challenges experienced at this stage in their careers. The Athenian Project is a platform to create and nurture relationships with others who have the passion and drive to impact their communities, organizations, and the profession. People who understand that only by working together can we make a significant difference. 
The Athenian Project is grounded in the Athenian Oath.
A journey to transmit yourself, your community, and the profession greater and more beautiful than each was transmitted to you.
An opportunity for servant leaders to connect, ignite their passion, and define their legacy, understanding:

If not us, who will lead in these times?
If not now, when?
What You Can Expect
A one-year learning journey where:
The Athenian Oath is deliberated.
Professional relationships are cemented.
Timely philosophical questions are discussed and debated.
Business case answers to societal dilemmas are developed.
Individual and team commitment and accountability are expected.
Future scenarios and trends are explored with possible solutions created.
Purposeful activities providing fun and time for reflection are offered.
Individual commitment to connecting, time and willingness to be accountable, personally and to your team is expected.
Continuing the work after the initial session for the benefit of the profession and its members is acknowledged.
Who Is Right for This Program?
Experienced local government leaders looking to:
Renew your passion for local government leadership.
Reflect on and define the legacy you want to leave in your organization/community.
Participate in developing solutions to trending issues affecting communities.
Connect with colleagues also focused on forward-thinking problem solving.
Use your influence to advocate for change in your communities and organizations.
How much does it cost?
The cost of tuition is $6,900, which includes room and board for the kick-off retreat June 11 to June 16, 2023 at the Deer Creek State Park Lodge in Sterling Ohio. 
A limited number of scholarships are available.
Projects: Socratic and Personal
By the end of the first week, attendees will determine the challenge and the deliverable. Personal issues small groups will identify and accept a challenge that will increase personal capacity and enrich the individual. Projects will be determined during week one and addressed throughout the Athenian Project year.
Professional Development Guidelines: This project can help fulfill your annual professional development requirements as outlined in the Guidelines for Tenet 8 of the ICMA Code of Ethics.
Need more information? 
View the video from the November 21, 2022 informational session below or contact a member of the Inaugural Class Alumni.