Headed to Baltimore for ICMA's 104th Annual Conference? 
CONSIDER A LONGER-TERM INVESTMENT IN YOUR CAREER AND YOUR COMMUNITY.
For a limited time you get half off your first year's dues (a savings up to $700) if you join ICMA today, and you'll get registration discounts offered exclusively to ICMA members as well as access to many other membership benefits.
Expect four packed days of educational programming exploring the most forward-looking trends and issues in local government, all included in your one-time registration. 
ICMA members save more on conference registration prices (and student members attend free!).
Join ICMA today to take advantage of these great savings. You must submit the conference registration and membership application together in paper form - this cannot be done online. As past attendees know, the sooner you register, the lower your fee.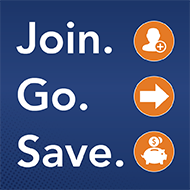 You can join and go in 3 easy steps beginning June 6, 2018:
1) Complete your Membership Application form
2) Complete your Conference Registration form
3) Send both forms with payment by email to membership@icma.org or fax to 202-962-3678. Please note: Registering or joining online won't secure the 50% discount.
Both your membership application and conference registration must be received together by ICMA by July 12 to qualify for the lowest member registration fee. If you prefer, you can mail your completed application with payment to ICMA Conference Registration ▪ 777 North Capitol Street NE, Suite 500 ▪ Washington, DC 20002-4201. 
MAILED OR FAXED REGISTRATION  DEADLINES AND RATES
| | | |
| --- | --- | --- |
| DEADLINE | MEMBER RATE  |   NONMEMBER RATE  |
| Registration postmarked/faxed by July 12:                                 |     $710       |    $1,165              |
| Registration postmarked/faxed by August 23:                          |     $775          |    $1,225             |
| Registration postmarked/faxed after August 23:                |     $830           |    $1,275              |
Still Not Convinced? Top Reasons to Join ICMA Now
You will save on your conference registration fee.
You will save on your membership fee.
It's the #1 way to get connected with 11,000+ like-minded local government professionals around the world.
You get to hang out with the other 3,000+ conference attendees. Read what some of your colleagues have said about the lasting value of attending the ICMA Annual Conference.
You will be in the know; members receive the latest news about the local government through Leadership Matters, the weekly e-newsletter; and a monthly subscription to PM magazine.
Members enjoy exclusive perks! As a member you will enjoy discounts on publications, webinars, and leadership and professional development training.
Get an edge in your career: Membership offers you resources to help you advance professionally and take your career to the next level through training, the Career Network and leadership development.
Proclaim your profession! Become credentialed.
Build a network and become a part of a community. Nationally and globally, you will find a strong supportive network of ICMA members, who will be there for you with an answer or solution when you have a question or issue.
If you're not a member of ICMA, you should be. Act now; join ICMA today!