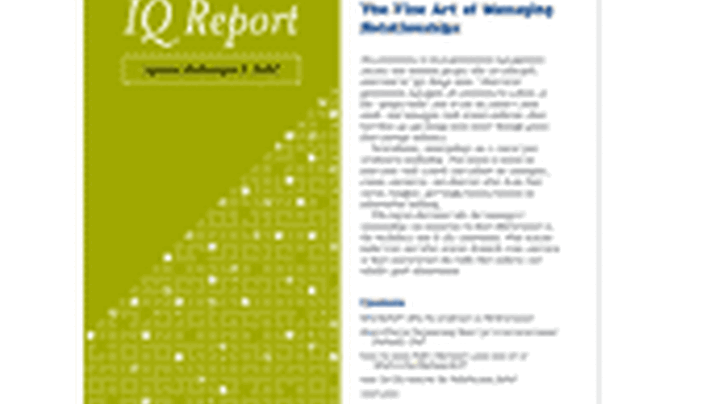 Now get the popular local government management tool – ICMA IQ Reports – delivered to your e-mail inbox six times a year, as soon as they are published. You get step-by-step solutions to management challenges, real-life examples of successful local government programs, and proven strategies to develop and implement effective management policies.
Plus, answers are at your fingertips with the exclusive online access to our searchable archive of past IQ reports published since 2000. Search by key word, report title, author, year published, or item number, or view IQ report titles by topic. From budgeting to green building, leadership to police management, smart growth to wastewater management, you'll find solutions in these easy-to-read concise reports.
You won't find fluff or jargon in these reports – just practical strategies you need to solve important management issues. Use these reports to improve programs or design new ones, educate citizen committees, kick off brainstorming sessions with staff, or respond to council inquiries. Your IQ Report Online subscription is like having a team of consultants and government experts (which would cost thousands of dollars) deliver the strategies and guidance you need.
To subscribe, add this item to your order in the ICMA bookstore or call 202/962-3675.
Recent IQ Reports include: 
Community Building: How to Do It, Why It Matters
Green Buildings: How to Select the Right Building
Assessment System for Your Jurisdiction
Emergency Management Grant Administration for Local Governments
Adapting to Climate Change: Strategies for Local Government
Managing Employee Performance: Planning an Effective Approach
How to Evaluate (and Improve) Your Community's Marketing—Part One: Planning
and Part Two: Execution
Reaching Your Highest Potential: Executive Coaching for Local Government Leaders
E-government Strategic Planning: Reap the Benefits of an Online Presence
Effective Citizens' Advisory Committees: A Blueprint for Success
At your fingertips … timely solutions to the most pressing local government management issues
Delivered to your inbox – current IQ Report in downloadable PDF format
Exclusive unlimited online access to a searchable 9-year online archive of 80+ IQ Reports 
Regular Price: $149.00  MEMBER PRICE: $119.00
Register for the ICMA Annual Conference
Join us September 17-21 in Columbus/Franklin County, Ohio for the 2022 ICMA Annual Conference.