Overview
Value Your Worth! Don't miss this inspiring and motivating event presented for FREE by Cigna on August 17th.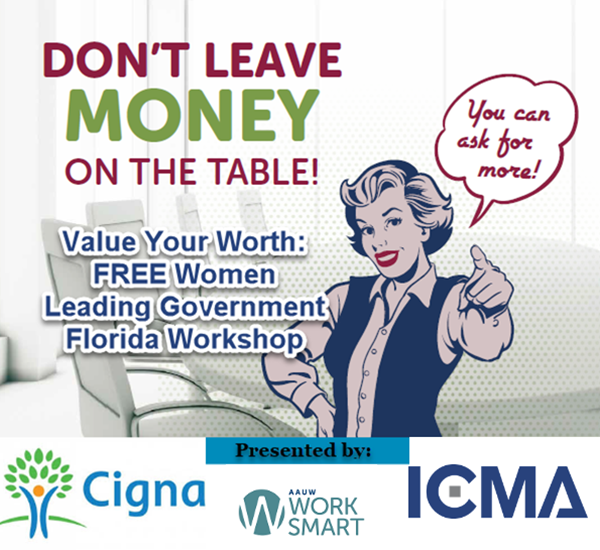 Join your colleagues on August 17 at the Le Meridien in Tampa, Florida for a professional development workshop on advancing women in the local government profession.
Whether you are entering the profession or a seasoned manager, this workshop is for you. Participants will gain new skills and tools to advocate for yourself and each other within the profession and leave with greater insight into overcoming implicit and institutional bias.
The American Association of University Women (AAUW) will present an innovative curriculum grounded in the latest research and offer best practices for navigating the complexities of job offers and promotion opportunities. Sharpen your negotiation style through facilitated discussion and role-play to get the money you deserve.
Dr. Joyce Bono will present her research, which shows we still have much work to be done in overcoming bias and illustrates how bias creates roadblocks for women moving into leadership positions, ending with an open discussion about real "solutions" – what you can do to enact change today.
Martha I. Vinas, Chief Operating Officer, Cigna, North Florida  will discuss the various forms of bias women have overcome in their professional lives and share success stories with Chief Deputy Donna Lusczynski, Hillsborough County Sheriff's Office; Liana Lopez, Chief Communications Administrator, Hillsborough County; Ann-Marie Sharpe, Director of Risk Management, City of Miami, FL; and Lea Ann Thomas, Deputy County Manager, County of Polk, FL.
August 17, 2018
Schedule:
9:30 am - 10:00 am    –  Arrival / Check-in / Information tables
10:00 am - 10:15 am  – Welcome and Introduction
10:15 am - 12:15 pm  – AAUW Work Smart Salary Negotiation Workshop
12:15 pm - 1:15 pm   – Lunch and Networking
1:15 pm - 2:15 pm     – Featured Speaker Dr. Joyce Bono 
2:15 pm - 3:30 pm     – Panel ~ Presented by Cigna
3:30 – 3:45 pm          – Closing remarks and acknowledgements
Speakers:
Dr. Joyce E. Bono
Dr. Joyce Bono is the W. A. McGriff III Professor of Management at the Warrington College of Business Administration, University of Florida and the Director of the University of Florida Leadership Lab. Her research interests include leadership, personality, motivation, job attitudes, the advancement of women leaders, and the effects of positive events, resources, and relationships on employees and their productivity and flourishing at work, and at home. 
Her research has been published in a variety of top management, leadership, and organizational psychology journals. It has also been the recipient of several awards and has been featured in media outlets including the Wall Street Journal, Huff Post, Metro (UK) Life and Style, "O" magazine, the Harvard Business Review's daily stat, Daniel Pink's "10 articles worth reading," the British Psychological Society, and Business Psychology. 
AAUW Work Smart
In her book Women Don't Ask, Linda Babcock found that only about 7 percent of women attempted to negotiate their first salary compared with 57 percent of men, and that women who negotiated were able to increase their salary by over 7 percent. When women negotiate they increase their potential to receive higher salaries and better benefits packages — and those advantages add up over time. Negotiating fair and equitable salaries can also help women become better positioned to pay off debts such as student loans and mortgages and save for retirement, leading to greater economic security. That's why AAUW wants to help women at all stages of their careers learn to negotiate for fair pay.
AAUW Work Smart is designed to help you negotiate for a new job, raise, or promotion. In the two-hour workshop you'll gain confidence in your negotiation style through facilitated discussion and role-play and learn
How to identify and articulate your personal value
How to develop an arsenal of persuasive responses and other negotiation strategies, including how to get a raise or promotion
How to conduct objective market research to benchmark a target salary and benefits
About the wage gap, including its long-term consequences
Panel
Chief Deputy Donna Lusczynski, Hillsborough County Sheriff's Office, FL
Chief Deputy Donna Lusczynski joined the Hillsborough County Sheriff's Office in 1991. She began her career in law enforcement as a patrol deputy and advanced through the ranks. Chief Deputy Lusczynski earned her stripes as sergeant and was assigned to the Juvenile Services Section of the Criminal Investigations Division. From there she was transferred to the newly created Child Protective Investigations Division, where she was instrumental in the development of the division's structure, recruiting and procedures and subsequently promoted to lieutenant.
After supervising child protective investigators, she was promoted to the rank of captain and assigned to Patrol District III. As a major, she was the division commander of the Special Investigations Division and the Criminal Investigations Division. She was then promoted to Colonel and assigned as commander of the Department of Investigative Services, which oversees the Special Investigations, Criminal Investigations and Child Protective Investigations divisions. Chief Deputy Lusczynski was promoted to the second-in-command of the Sheriff's Office on May 7, 2018.
Chief Deputy Lusczynski has a Bachelor of Science degree in criminology from the University of Tampa and obtained her Master's degree in public administration from Troy State University. She is also a graduate of the prestigious FBI National Academy, Session 231. She was born in New York City, grew up in Roxbury, New Jersey and has been a resident of Hillsborough County since 1987.
Liana Lopez, Chief Communications Administrator, Hillsborough County, FL
Liana Lopez, APR, serves as the Chief Communications Administrator for Hillsborough County, Florida. She is a highly motivated public relations strategist with over 20 years of experience in the non-profit, corporate and government sectors.  She is well practiced in crisis management and crisis communications and has comprehensive experience with local, state, national and international media professionals.  Additionally, she has served as a coach and advisor to organization, community, and public leaders for the span of her career.
Lopez excels in developing long-range communication goals and objectives; creating and executing strategic, integrated communication plans and campaigns; and collaborating and building valued, trusted relationships.  She possesses a complete and thorough understanding of public relations' ethics, principles, and practices and works to ensure that best practices are employed with every endeavor.
Ann-Marie Sharpe, Director of Risk Management, City of Miami, FL
Ann-Marie joined the City of Miami in July 2013 as the Assistant Director of Risk Management and less than a year later was asked to lead the department as Director in March 2014.  Ann-Marie has over 25 years' experience in the Risk Management and Insurance industry, having started her career as a claims office assistance with Progressive Insurance Company.  She was soon promoted to claims adjuster handling automobile claims and later handled workers compensation claims with carriers such as AIG and Fireman's Fund Insurance.  
With a degree in Risk Management from Georgia State University, and her then extensive claims experience, Ann-Marie began her Local Government Risk Management career in 2000 with Hall County Board of County Commissioners in Hall County, GA.  She has since managed Risk Management programs for municipalities such as City of West Palm Beach, FL and City of Durham, NC.  As Risk Management Director of the City of Miami Ann-Marie also serves as a Trustee on the General Employees and Sanitation Employees (GESE) Pension Trust as well as the Fraternal Order of Police (FOP) Health Trust.  She holds an ARM (Associate in Risk Management) designation and the RMPE (Risk Management for Public Entity) designation as well as the CPPT (Certified Public Pension Trustee) and CAPPP (Certificate of Achievement in Public Plan Policy).
Lea Ann Thomas, Deputy County Manager, County of Polk, FL
Lea Ann wants to live in a world where women run businesses (government or private), chocolate is required at all meetings, and everyone in the workforce is healthy and happy. As the first female in the Polk County manager's office, she's worked as an intern, budget analyst, division director, assistant for special projects, assistant county manager and finally with the same title as the men - deputy county manager. When she's not keeping the male leadership on a straight path, you can find her answering the same work questions for the zillionth time, outside playing, dreaming of her next adventure, or hiding in the closet with her nose stuck in a book. Her favorite activity though is encouraging other women.  She wants their career paths to be smooth sailing!
Moderated by: Martha Vinas, Chief Operating Officer, Cigna, North Florida
Martha Vinas is the Chief Operating Officer for Cigna's North Florida Market.  Reporting to the Market President, Martha is responsible for overseeing the collaboration and integration of all functional support areas aligned to the market.  She partner's with all cross functional teams to develop and lead the execution of the market business plan and strategy execution. Prior to assuming this role, she served as the Director of Education and Engagement on Cigna's Sales Effectiveness Team. In this role, Martha was responsible for leading a team that drives Education and Engagement initiatives with the Sales team and Strategic Business Partners.  The focus of these initiatives is to arm them with expertise, advocacy, process and tools to maximize sales performance. 
Prior to joining Cigna, she served as Senior Vice President, Regional Operations and National Placement at Willis, the third largest insurance intermediary in the United States. In this role, Martha was responsible for driving Human Capital Practices initiatives in the Southeast Region and National Placement initiatives across the US. At Willis, she also held the positions of South Florida Human Capital Practice Leader and Director of Client Advocacy for Willis' Florida Employee Benefits Practice which included 8 offices throughout the state.  In this role, Martha managed the Client Advocacy team in Florida and was responsible for Client Advocacy, the development of professional talent and capabilities as well as strategic planning, staffing, operations and partner development. 
In previous roles as part of HRH's National EB Practice, Martha was integral in shaping the strategic and operational direction of the practice that supported over 70 local offices across the US.  Earlier in her career, she held employee benefits consulting positions, roles in HR and worked for insurance carriers in a variety of capacities including proposal writing, quality improvement and strategic planning. Martha received a Bachelor of Health Services Administration from Florida International University and her MBA from the University of Tampa.   She also has her Group Benefits Disability Specialist Designation (GBDS) from the National Underwriter Company.
Martha serves as the leader for Cigna's Hispanic Colleague Resource Group for the US.  She is also on the volunteer Board for the March of Dimes' Tampa Bay chapter and is an active volunteer for the Boys and Girls Club of Tampa.  In 2009, Martha was recognized as one of Business Insurance's Women to Watch.
Thanks to support from ICMA strategic partner Cigna, there is no charge for this event, but registration is required to guarantee your seat.
Event Details
When

Aug 17, 2018 - Aug 17, 2018

09:30 am

03:30 pm

ET

Registration Deadline:

08/16/2018
Where

601 N Florida Ave, Tampa, FL 33602

Tampa

FL

Le Meridien Hotel
Price

Member Price:

$0.00

Non-Member:

$0.00
Contact

Phone:

202-962-3627

Email:

crainwater@icma.org