Overview
Discuss how to hire the right people for your organization and develop a culture of accountability and performance.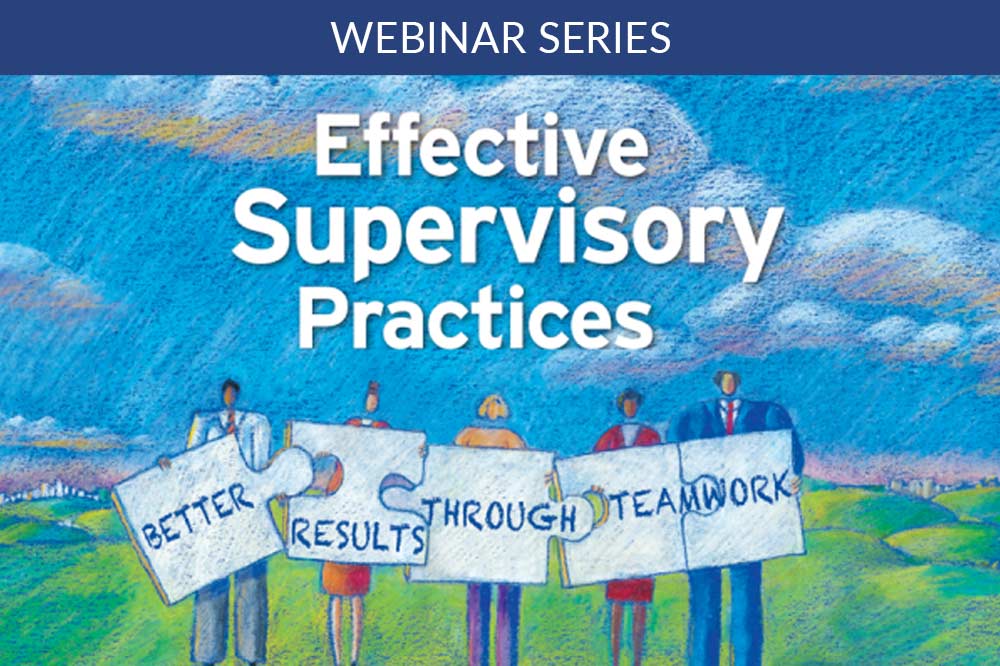 This six-session interactive webinar series will demonstrate principles covered in Effective Supervisory Practices (5th Edition). Hosted by experienced managers and local government experts, this program is designed to impart real-life experience, best practices, and sound advice in the areas most important to a manager's day-to-day role. All sessions are included in the webinar series package and cannot be purchased separately.
Live Webinar Sessions and Dates:
Session 5 | The People Part: Hiring and Onboarding, Fostering Accountability, Evaluating Performance
Speakers
Michelle Poché Flaherty, deputy city manager, Palo Alto, CA
Cindy Taylor, performance consultant, Chesterfield County, VA
Beverly Roberts, performance support coordinator , Chesterfield County, VA
Discussion highlights:
Behavioral interviewing
New employee orientation
Goal setting
Praise, recognition, rewards
Performance evaluations/performance improvement
Coaching and counseling
Effective Supervisory Practices Course Materials
*Materials can take 3 weeks or more to arrive. Please order all course materials as early as possible.*
These print publications are NOT available online and must be ordered directly from ICMA. To order:
Please note that all sales are final (no returns accepted unless the publication has been damaged in shipping)—no returns and no refunds.
Quantity Discounts: Purchases of 100 copies or more of a specific ICMA title are eligible for a 20% discount.
ESP Webinar Series Pricing
Single Log-In: Allows you to view it live or on-demand in one office or conference room as a group. $795 (member) / $1095 (nonmember)
Multiple Staff Log-ins: Allows multiple people in your office to access it live or on-demand on their own devices anywhere, anytime. This option allows for individual quizzing, custom certificate printing, progress tracking and e-mail alerts to you upon module completion
10 individual log-ins: $945 (member) / $1295 (nonmember)
25 individual log-ins: $1170 (member) / $1595 (nonmember)
50 individual log-ins: $1545 (member) / $2095 (nonmember)
75 individual log-ins: $1920 (member) / $2595 (nonmember)
100 individual log-ins: $2295 (member) / $3095 (nonmember)
200 individual log-ins: $3795 (member) / $5095 (nonmember)
300 individual log-ins: $5295 (member) / $7095 (nonmember)
Members are encouraged to register staff under their membership number to receive the discount; members do not need to participate themselves in order for their jurisdiction to receive the discounted rate.
Event Details
When

June 26, 2019

01:00 pm

02:30 pm

ET

Registration Deadline:

06/27/2019
Price

Member Price:

Not available

Non-Member:

Not available