Overview
Discuss how good supervisors can motivate employees to become productive and fulfilled.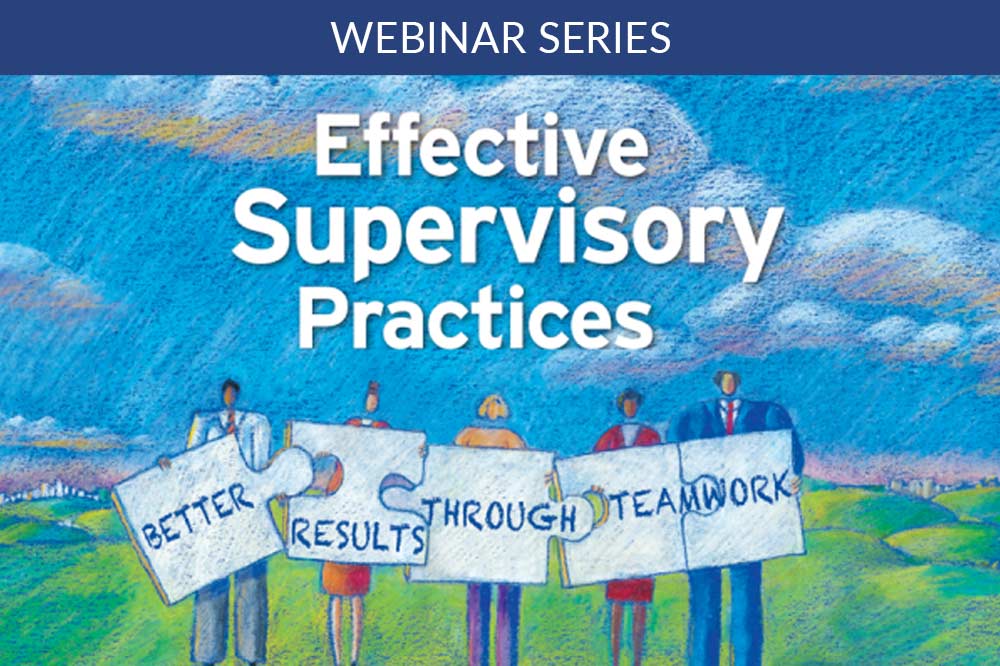 This six-session interactive webinar series will demonstrate principles covered in Effective Supervisory Practices (5th Edition). Hosted by experienced managers and local government experts, this program is designed to impart real-life experience, best practices, and sound advice in the areas most important to a manager's day-to-day role. All sessions are included in the webinar series package and cannot be purchased separately.
Live Webinar Sessions and Dates:
Session 4 | Raising the Bar: Motivating Employees and Customer Service
Speakers
Michelle Poché Flaherty, deputy city manager, Palo Alto, CA
Jim Lewis, city manager, Pismo Beach, CA
Discussion highlights:
Personality types and motivation
Six steps to promoting creativity and reducing bureaucracy
Customer service and its impact on public perception of local government
What do customers expect?
Establishing standards of service
How to deal with difficult customers
Effective Supervisory Practices Course Materials
*Materials can take 3 weeks or more to arrive. Please order all course materials as early as possible.*
These print publications are NOT available online and must be ordered directly from ICMA. To order:
Email: Orders@icma.org
Telephone: 1-888-280-2370
Please note that all sales are final (no returns accepted unless the publication has been damaged in shipping)—no returns and no refunds.
Quantity Discounts: Purchases of 100 copies or more of a specific ICMA title are eligible for a 20% discount.
ESP Webinar Series Pricing
Single Log-In: Allows you to view it live or on-demand in one office or conference room as a group. $795 (member) / $1095 (nonmember)
Multiple Staff Log-ins: Allows multiple people in your office to access it live or on-demand on their own devices anywhere, anytime. This option allows for individual quizzing, custom certificate printing, progress tracking and e-mail alerts to you upon module completion
10 individual log-ins: $945 (member) / $1295 (nonmember)
25 individual log-ins: $1170 (member) / $1595 (nonmember)
50 individual log-ins: $1545 (member) / $2095 (nonmember)
75 individual log-ins: $1920 (member) / $2595 (nonmember)
100 individual log-ins: $2295 (member) / $3095 (nonmember)
200 individual log-ins: $3795 (member) / $5095 (nonmember)
300 individual log-ins: $5295 (member) / $7095 (nonmember)
Members are encouraged to register staff under their membership number to receive the discount; members do not need to participate themselves in order for their jurisdiction to receive the discounted rate.
Event Details
When

Jun 12, 2019 - Jun 12, 2019

01:00 pm

02:30 pm

ET

Registration Deadline:

06/13/2019
Price

Member Price:

Not available

Non-Member:

Not available