Overview
The ICMA Annual Conference is the largest annual event in the world for local government managers and staff.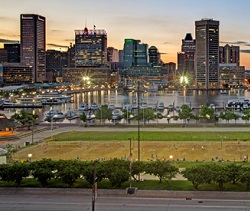 Join the go-to event for leaders of cities, towns, and counties of all sizes around the world. The 2018 ICMA Annual Conference, in Baltimore, Maryland, September 23-26, 2018, is an indispensable forum for colleagues to interact as we pursue our common task of building sustainable communities and improving the lives of people worldwide. 
What to look forward to:
This year's conference will include a special focus on creating smart communities that last and where people of all ages can live and thrive together. ICMA's 104th conference, like those before it, will offer attendees an abundance of innovative ideas and practical strategies for managing local governments in today's complex environment while also providing countless opportunities for professional and personal renewal and networking. Content topics for this year's event includes: 
Creating Communities That Last
Equity and Social Inclusion
Not Your Grandparents' Workforce
Redefining Community Engagement: From the Couch to Town Hall Meetings
Smart Communities: What Are They?
The Challenges - and Responsibilities - of Putting Your Well-Being First
What's included with your registration:
Keynotes and Featured Speakers
Educational Sessions
Learning Lab Sessions
Roundtable Discussions
ICMA University Forums
Educational Exhibits and Soultions Track Sessions
Book Signings
Film Screenings
Networking
And more!
Event Details
When

September 23 - 26, 2018

08:00 am

02:00 pm

ET

Registration Deadline:

09/17/2018
Price

Member Price:

$830.00

Non-Member:

$1275.00