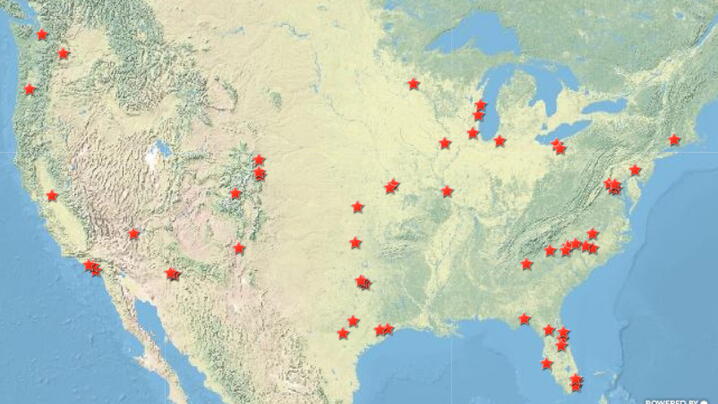 As part of ICMA's efforts to advance the practice of professional local government management, ICMA awards certificates each year to recognize programs that instill a culture of performance management, pursue comparative analysis and data-informed decision-making, and promote transparency. Certificates of Excellence (highest level), Distinction, and Achievement honor jurisdictions that have incorporated the principles of performance management at varying levels into their organizations.
The certificates are awarded on the basis of criteria that include data collection and verification, training and support, public reporting, accountability and process improvement, networking, and leadership. Each year's recipients are recognized at the ICMA Annual Conference.
2023
Payment Voucher - Download as PDF | Excel
2021 Recipients, Certificates in Performance Management
For 2021, ICMA recognized these local governments for their exemplary performance management initiatives. View examples of leading practices shared by certificate recipients below.
Certificate of Excellence (Highest Level)

Alachua County, FL
Alexandria, VA
Austin, TX
Bayside, WI
Bellevue, WA
Bernalillo County, NM
Clayton, MO
Coral Springs, FL
Dallas, TX
Durham, NC
Fairfax County, VA
Farmers Branch, TX
Fort Collins, CO
Fort Lauderdale, FL
Gilbert, AZ
Gunnison County, CO
Henderson, NV
Kansas City, MO
Loudoun County, VA
Miami-Dade County, FL
Montgomery County, MD
Oklahoma City, OK
Pinehurst, NC
Port St. Lucie, FL
Rock Hill, SC
San Antonio, TX
Sarasota County, FL
Scottsdale, AZ
Sugarland, TX
Suwanee, GA
Tamarac, FL
Woodbury, MN

 

Certificate of Distinction

Algonquin, IL
Arapahoe County, CO
Baytown, TX
Buncombe County, NC
Cuyahoga County, OH
Palm Coast, FL
Phoenix, AZ
Poudre Fire Authority, CO
South Bend, IN
Southlake, TX
Tallahassee, FL
Wichita, KS

Certificate of Achievement

Bettendorf, IA
Chester County, PA
Costa Mesa Sanitary District, CA
DeLand, FL
Elk Grove, CA
Frisco, TX
Georgetown, TX
Hudson, OH
Lake Wales, FL
Maplewood, MN
St. Lucie County, FL
Stanly County, NC
Temple, TX
Leading Practices Among Certificate Recipients
Here is a selection of programs and presentations that exemplify the certificate criteria. While these examples are presented according to individual categories, qualification for a certificate is based on results achieved on all certificate criteria.
Category: Public Reporting

Use of graphs, color-coding, dashboards, etc., to highlight performance above/below expectations or varying significantly from past or comparable data. Examples:

Category: Training

At least one informational or training session during the past year for other jurisdiction staff dealing with performance measurement issues, or coordination of staff's attendance at alternate training sessions. Consideration of the particular needs of new employees in performance measurement training efforts. Examples: 

Data Academy, Kansas City, Missouri (2018)

Performance Measurement in Local Government: Developing Measures for Managing Your Operation (2017)

Collaborative Performance Management System, San Mateo County, California (2016)

Guide to Good Performance Measures, San Francisco, California (2015)

PeoriaStat Training, Peoria, Arizona (2013)

Training, New Orleans, Louisiana (2013)

Category: Data Verification

Creating a system for periodically reviewing performance measures, their use, and the controls in place to ensure the reliability and validity of data.

Performance Measure Verification "Self-Audit" Checklist, Dallas, Texas (2018)

Measure Certification Corrective Action Plan, Austin, Texas (2018)

Category: Accountability 

Adoption of policies for holding staff accountable to report performance data and work toward continuous improvement. Examples:

Quarterly Performance Reporting, Farmers Branch, Texas (2020)

Performance Measurement Ordinance, Centennial, Colorado (2016)

Category: Discussions and Process Improvement

Participation on at least two occasions in email/phone communications with staff and/or online discussions about performance measurement issues and/or template revisions. Feedback may also take the form of internal process improvement efforts. Examples:

 

Nudge Technique, Mesa, Arizona (2020)

Public Records Requests, Cuyahoga County, Ohio (2020)

Water Meter Replacement, Gilbert, Arizona (2020)

Business Process Analysis, Arapahoe County, Colorado (2019)

Random control trial (business licenses): Kansas City, Missouri (2019)

Examples of Process Improvement Activities (2018)

Process Improvement, Fort Worth, Texas (2018)

Performance Measures Self-Assessment Review Checklist, Austin, Texas (2017)

Category: Networking

Sharing of performance measurement experiences/lessons learned with other communities. Examples:

Valley Benchmark Cities Report, Arizona (2016)

Performance Management Networking, Fayetteville, North Carolina (2018)

Category: Strategic Planning and Budgeting

Consideration of performance data in measuring progress toward strategic plan goals (for the overall organization, departments, or individuals), making management decisions, or considering financial issues. Examples:

Diversity Metrics, Manchester, Connecticut (2020)

Strategic Planning and Performance Management, Greer, South Carolina (2020)

Foreclosure visualization and analysis, Rock Hill, South Carolina (2019)

Data-Driven Analytics, New Orleans, Louisiana (2018)

Using Data for Strategic Planning, Budgeting, and Decision Making: Examples (2018)

Strategic Planning Cause and Effect Map, Bellevue, Washington (2017)

Strategy Maps, Fort Collins, Colorado (2018)

Business Plans, Alachua County, Florida (2016)

Performance Report, Peoria, Arizona (2015)

Service-Specific Mission Statement, San Antonio, Texas (2015)

Strategic Plan Performance Audit, Durham, North Carolina (2014)

Solid Waste Data Report, Bloomington, Illinois (2014)

Paperless Council Packets (Quantified), Bayside, Wisconsin (2014)

Animal Control Business Planning, Miami-Dade County, Florida (2013)

VitalStats, Peoria, Arizona (2013)

Category: Leadership

Internal emphasis on performance measurement that makes it pervasive in the organizational culture, and external leadership in networking, presentations, and data sharing. Examples:

Data Governance Study, Fairfax County, Virginia (2019)

Category: Satisfaction Surveys 

Conduct and reporting of customer satisfaction surveys, both of internal customers (employees) and the general public. Examples: 

Employee Engagement Survey, Southlake, Texas (2020)

Gap analysis, Farmers Branch, Texas (2019)

Employee Survey, Algonquin, Illinois (2017)

Employee Survey, Batavia, New York (2017)

Business Survey, Bellevue, Washington (2016)

Internal Customer Satisfaction, Fort Collins, Colorado (2013)