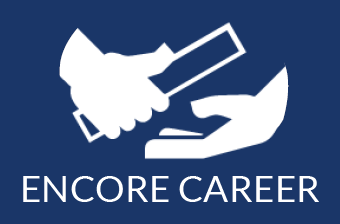 About the Initiative
A whole generation of baby-boomer managers has or will soon "retire" from full-time local government management.  Because this has been a "quiet crisis," our professional associations have not responded with substantive support for senior managers who are obviously struggling with how to successfully transition to their next life phase and develop fulfilling "encore" chapters.  In addition, our professional associations are at risk of soon losing over half of their members and their accumulated knowledge, expertise, and commitment to the profession and to our associations.
Consequently, the Cal-ICMA Board of Directors has authorized the development of a Senior Manager/Encore Manager Initiative and created a committee of active and retired managers to guide the effort.  The purpose of the effort is three-fold:
Help senior managers overcome any sense of the "doldrums" as they complete their full-time careers and experience an energetic and fulfilling last few years
Assist senior managers think about, pursue and transition into their "encore" phase of meaningful and renewing experiences
Maintain a connection with the profession and their peers
The Cal-ICMA Committee on Senior Managers/Encore Managers is particularly interested in how next life phase managers can support active ICMA members and the profession through coaching, teaching, training, writing, managing special projects and other roles.
Summary of Focus Groups
To assess the needs of managers who have been considering retirement from full-time local government management, the Committee conducted four focus groups across California, held in Orange County, San Luis Obispo County, Sacramento County, and the Silicon Valley.  Three key questions were posted to the participants in these groups:
What is my greatest hope/expectation of my next phase?
What is my greatest fear about my next life phase?
What are the big questions that I have regarding my "encore"?
Hopes/Expectations
A variety of hopes and dreams were articulated by the participants:
I hope to stay engaged and relevant yet have time to pursue other interests.
My hope is to craft a vibrant and fulfilling next life phase, including good work, service, love, family and leisure.
I want to explore my "undiscovered self".
I desire to work on new projects, such as fixing up my house.
I want to give back to the profession, coach other city managers and assistants both the senior and next generation.
I would like a part-time gig.
I think I'd like to teach.
I want to find something completely new in my life which could be a new career, sports, travel, leisure activities, etc…
I hope for more control over my life.
I want to learn new things.
I'd like to explore new opportunities, new professional and personal contacts.
I hope to enjoy my new life as much as I have enjoyed my life as a city manager.
Fears
The fears expressed included:
Uncertainty, the "unknown"
Personal isolation, being forgotten, not being able to maintain connection with my colleagues
Losing a sense that I am contributing and adding value
Working too hard in my next phase and therefore not being able to explore other aspects of my self
Loss of organizational support
Boredom, too much time on my hands
Not having a plan
Lack of competence in other areas that I may pursue
The "moment of commitment" to something else previously unexplored
Loss of authority and influence
Lack of ability to "recalibrate" as I enter the last few years of my full-time local government career
Concern about the possible lack of intellectual stimulation and sense of personal identity loss after years of having been on the forefront of community issues
No longer contributing to the betterment of society
Not planning properly for my financial needs for the rest of my life
If I retire "badly," problems could be created such as marital/family issues, alcoholism, depression, etc.
Family disruption as I retire
Inability to separate my self from my identity as a city manager
Problems coping with physical, mental and emotional stress as I transition
Questions
A number of related questions were raised by participants:
When do I know it is time to retire?  What are the "signs"?
How have others transitioned successfully into their next phase?
Is it possible to "recalibrate" and modify my organizational role, work intensity, and possibly my schedule as I enter my last few years of full-time management?
How do I go about starting a new business?
What are the pros and cons of different business models?
How do I explore university teaching?
What is the range of different journeys after transitioning?
How much planning and preparing for my next phase should I do?
If reflection is a key to crafting a meaningful next phase, how do I do that?
Initial Efforts
The Cal-ICMA Committee on Senior Managers/Encore Managers has worked with several partners to advance the initiatives.  These initial efforts include:
Cal-ICMA website.  ICMA has helped Cal-ICMA enhance its web site to include information, resources and services related to the Encore Initiative (click on the "Resources" tab at top right of this webpage).
Encore Resources List.  The Committee has identified a variety of books, articles, and websites to help local government managers make the transition into their next life phase.  (Click on the "Resources" tab).
Workshops.  Cal-ICMA has begun to conduct an annual "Encore Opportunities" workshop in conjunction with the annual League of California Cities City Managers Department Conference.  The 2015 workshop was co-sponsored by the California City Management Foundation.
Peer Coaching.  "Encore managers" have been recruited to serve as one-to-one peer coaches for active managers considering their next life phase.  Profiles of the peer coaches appear under the "Resources" tab.
"Different Journeys."  A number of managers who have selected different encore journeys have written vignettes about their experiences and provided lessons or tips (see the "Resources" section).
Email Notice and Distribution List.  The Committee has established an email list in order to notify interested manages (both active and retired managers) of upcoming events or other activities.  To join the list, email: Kevin O'Rourke at kevin@kolgs.com.
"How-To" Papers.  The Committee has released three "how-to" papers about encore opportunites (see "Resources" section).  The three papers include:
For further information on the Initiative, contact one of the following members of the Cal-ICMA Senior Manager/Encore Manager Committee: