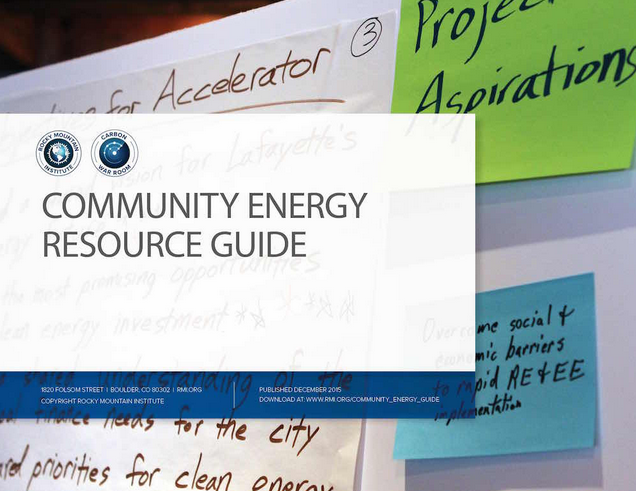 The Rocky Mountain Institute (RMI) has released a new free resource that may be useful to ICMA members. RMI's Community Energy Resource Guide provides community leaders with a toolkit to create comprehensive energy action plans by providing a set of best practices and highlighting leading examples throughout the country. We believe this freely available guide would be of great interest to ICMA members, given the growing demand for local energy planning.
What To Expect In This Guide
Practical guidance for local decision makers, practitioners, and leaders
A plan or process that may be adapted to your community
Examples of leading and/or innovative initiatives and strategic (but not a comprehensive list)
Tools, studies, and external resources for planning, analyzing, selecting, and evaluating tactics and strategies
New ideas to spur uptake and implementation
Within this guide, local leaders can find examples of Community Energy Plans underway across the country. These plans are a selection of recommendations, and not a comprehensive list or an endorsement. Communities may wish to consult some of these plans to see how other cities are conducting and communicating their vision, goals and process to stakeholders.
The following list shows examples of community energy plans highlighted in the report that are pushing the boundaries of what is possible.
*draft plan
Key Takeways
Overall, this Resource Guide provides suggestions for developing the pieces of a comprehensive community energy plan that has teeth and holds people accountable for following through. By developing an implementation plan, whatever the desired outcome, it  should be designed to achieve it in the desired timeframe and with the appropriate people involved through both near and long-term activities. The guide also notes that it is also important to identify the appropriate action channel for each sector (electricity, buildings, transportation, and industry) within the implementation plan.
We hope this guide is useful for the energy action planning process in your community. Access the full guide here. Please direct inquiries about the guide to Rocky Mountain Institute's  James Mandel (jmandel@rmi.org) and Christa Owens Michelet (cmichelet@rmi.org).