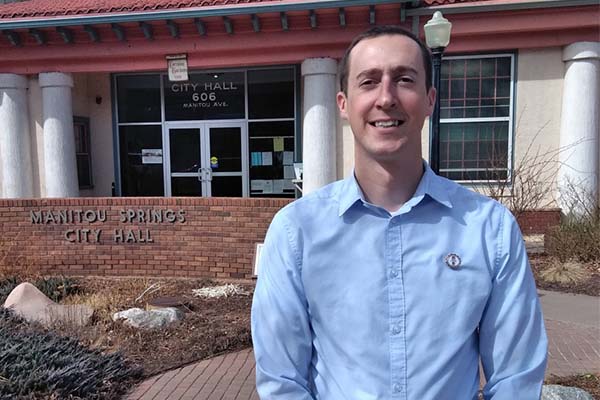 The City of Manitou Springs, Hazard Mitigation and Resiliency Department hosted its third Soldier as part of a program tailored for transitioning service members called the Veteran Local Government Management Fellowship. This is a 16 week program where military service members can participate in project management and event coordination at the municipal level and gain experience while being mentored by professionals in that field. In addition, participants are given annual membership and access to ICMA (International City/County Management Association) professional certification in Local Government, as well as membership in ELGL (Engaging Local Government Leaders), and CCCMA (Colorado City/County Management Association).
Sergeant Travis A. Brown began the fellowship January 18th and has had the opportunity to visit ongoing municipal projects; attend community driven meetings; develop standard operating procedures; write requests for proposals for design and construction projects; attend City Council meetings and work directly with city staff on projects that benefit the people of Manitou Springs; listen to citizens discussing issues with their City Council representatives; observe the city administrator directing staff to carry out the policy of the Council and work with department heads to plan and accomplish those policies within the constraints of budgets and other outside forces. Most recently Sergeant Brown has been coordinating the Great American Clean Up event for Manitou Springs on April 21st at 9:00AM in Memorial Park. This event brings the community together to pick up trash and clean local waterways in cities across Colorado.
Sergeant Brown says he felt drawn to this career field after working at a non-profit foundation before he enlisted in the Army. Drawing parallels between his degree in Political Science and local government he said "I found an incredible opportunity to experience how local governments function and also expand the leadership and management skills I developed in the Army. I've greatly expanded my network of professionals involved in local government, which gives me a better understanding of how to prepare for a career in this field. I have also learned from a mentor that has the education, experience, and institutional knowledge to guide and motivate me to continue working in local government." Additionally, "I would recommend this Fellowship to the individuals who truly want to experience how local governments work and plan on pursuing careers in management or government."
Sergeant Brown enlisted in the Army in July of 2013 as an Infantryman. He was stationed at Fort Carson, CO and served as a Team Leader, Vehicle Commander, and Training Room Administrator. He is seeking to further his education and was recently accepted into the University of Colorado, Colorado Springs Graduate School of Public Affairs.