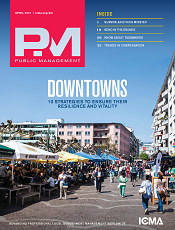 The April PM cover story, "Downtowns: 10 Strategies to Ensure Their Resilience and Vitality," reminds me of the song that Petula Clark sang in the '60s titled "Downtown," where the song's composer tells us that when downtown, "You can forget all your troubles, forget all your cares" and there's "no finer place for sure." Author Michael Burayidi identifies approaches that can help make a downtown area the place where residents want to go.
To tempt you to read specific details about the strategies, here are just three: realizing that image is everything in downtown development, leveraging heritage resources and historic preservation is worthwhile, and nurturing quality of place can knit successful downtown development projects together.
April also includes an article on design lessons learned in building an all-inclusive city hall, fire station, and police station, and it uses the new Joint Municipal Center in Forest Lake, Minnesota (Aaron Parrish, city administrator), as a case study. The one-building concept runs counter to the tradition of often separating these functions into separate facilities.
Although news outlets tell us about the creepy things that drones might do, like spying, I was pleased to find out that local governments can use drones in a number of positive ways, including search and rescue, firefighting, planning and zoning, disaster control, golf course management, and more. Find out in "Send in the Drones."
Members from around the world respond to this month's On Point question: "What Is Being Done in Your Community to Enhance Its Economic Prosperity? All respondents have planned strategies and visions for the future.
This issue includes two articles—one a department article and one an online-extra article–that make the most of presenting content graphically. Check out "Trends in Local Government Employee Compensation" (department article) and "25 Tricky Interview Questions and How to Answer Them" (online extra).
Add in these department articles on how:
With so many informative department articles to read, I'll come full circle to another line from the "Downtown" lyrics: How can you lose?
---