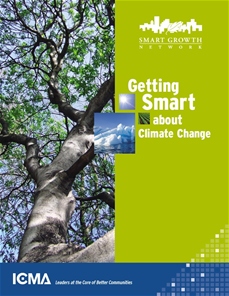 A new report, Getting Smart about Climate Change, outlines nine strategies for successfully applying smart growth principles to climate concerns on the local and regional levels:
Create more sustainable and resilient communities.
Green the local economy.
Engage the community in the climate change planning process
Approach climate change planning on a regional evel
Address transportation through transit-oriented development and complete streets
Promote density through infill development and brownfield redevelopment
Adopt green building policies.
Preserve and create green space.
Plan for climate adaptation.
Download the full report.