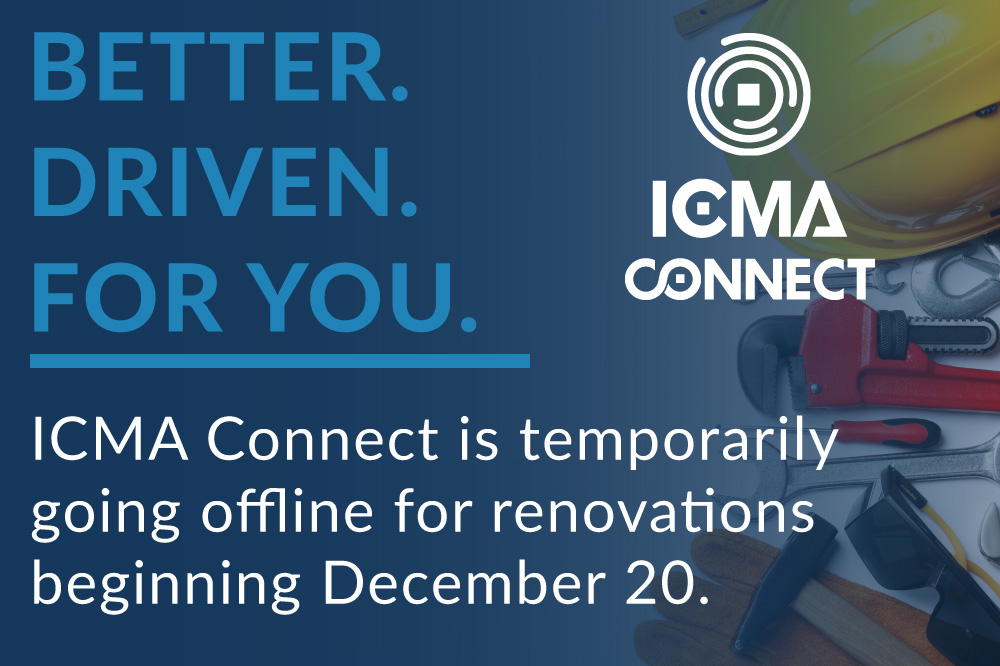 Since its official launch in May of 2019, ICMA Connect, the official online member community for ICMA, has experienced a steady growth in community members connecting with their peers and sharing knowledge and resources. A secure member-only community, ICMA Connect provides members the support of a diverse and impactful group of passionate local government professionals, enabling members to manage and discuss personal, professional, and community issues and opportunities.
Building a Better Member-Driven Community
In an effort to offer members a better user experience and improved features, the ICMA Connect community and app will be temporarily taken offline starting Friday, December 20, 2019. We have already started working on these improvements behind the scenes and specifically chose this holiday period, when we hope you'll be spending time with family/friends and recharging as we begin a new year, to take the community offline. We are striving to have the new and improved ICMA Connect community back online as soon as possible, and we apologize for any inconvenience.
We've value and have listened to the encouraging member input and feedback on how this community can best serve your needs. We are excited about what's to come and hope you are as well.
In bringing this new community back online in the new year, it is our goal to make this a seamless transition for all members to give voice to their membership, connect, and share and discuss new ideas, resources and experiences. We thank you for your patience as we work to bring you an improved ICMA Connect. We encourage all members to stay tuned for community news and updates.
Thank you for continuing to make this a great and resourceful ICMA member community!
Questions? Contact appsupport@icma.org.