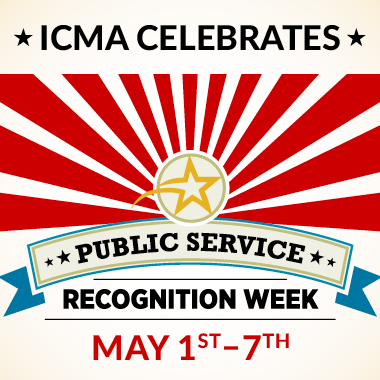 During Public Service Recognition Week (PSRW), which takes place May 1-7, 2016, traditional and social media will come alive with great stories about the outstanding contributions made by the men and women who serve America as local, state, and federal government employees. PSRW is the time set aside each year to tell constituents, family, and friends about the many ways in which government at all levels serves us and how local government specifically enhances the quality of life in our communities.
Yet, despite PSRW, just over half of the respondents to a 2015 ICMA poll conducted by Nielsen (formerly Harris) indicated that they were aware of the position of city, town, or county manager, and only five percent understood all of the contributions that a manager makes to the quality of life in their communities.
To highlight the value of professional city, town, and county managers, ICMA—in conjunction with PSRW—celebrates eight outstanding chief administrative officers and assistant managers, all of whom have been recognized either by the association or another institution or group as making a unique contribution to the quality of life in their communities.
 
Noel Bernal, assistant city manager, Taylor, Texas; who was recognized as a "New Sensation" by ELGL in 2014 while serving as city administrator of Falfurrias, Texas. While in Falfurrias, Noel initiated a water, wastewater, and natural gas cost-of-service study that helped the city council successfully transition management and control of an independent utility governing board into a utilities department.
Dominic Cloud, city manager, St. Albans, Vermont; who received the Vermont Town & City Management Association's Outstanding Achievement Award last spring. Dominic directed the effort to pull that city up from decades of decline—which had led to a 60-percent downtown vacancy rate, rising crime, and a negative property tax value—to become a model for cost-cutting, economic development, and downtown revitalization.
Jeffrey Hudson, county manager, Onslow County, North Carolina, who was recognized with the Golden Eagle Man of the Year Award in January 2016 by the Jacksonville-Onslow Chamber of Commerce for bringing the county's public infrastructure into the digital 21st century by overseeing the development and construction of a number of new county buildings and a new airport. Onslow County's Solid Waste Management Department was also recognized with a 2015 ICMA Community Sustainability Award.
 
Isaiah Hugley, city manager, Columbus, Georgia; whose career with the Columbus Consolidated government spans 32 years and who was recognized by the Georgia City/County Management Association this past November with the Pillars of Professional Management Award for making a "notable contribution to the growth and advancement of Georgia local government through a record of service." 
Pamela Newton, chief operating officer, and Donna Lobaito, chief administrative officer, Hawthorn Woods, Illinois. ICMA conferred its 2015 Strategic Leadership & Governance Award to the village and its two top managers for their innovative small-business approach, which transformed a severe financial crisis into a successful, entrepreneurial management model while breaking down stereotypes to support women in legislative government.
Elaine Polachek, assistant city manager, Santa Monica, California; who was recently recognized with the statewide 2016 "Woman of the Year" Award by California's 50th Assembly District for her focus on developing, enhancing, and sustaining relations with residents and business partners and for being a trailblazer in what had traditionally been a male-dominated profession.
Henry Wong, chief executive officer, Manly Local Government Area, New South Wales, Australia. The Manly Council Crime Prevention Plan received ICMA's 2015 Community Health and Safety Award, which recognizes innovative local government programs or processes that improve a community's safety, health, and/or wellness, or enhance the quality of life for the disadvantaged.
Each of these outstanding individuals exemplifies what it means to be dedicated to improving the quality of life in our communities. To read more about professional city, town, and county managers and other public employees—such as police officers, teachers, or solid waste managers—who use their talents each day to improve the quality of life in their communities, visit ICMA's newly revamped Life, Well Run public awareness campaign site.
By clicking on the "Community Heroes" section of the site, you can view the new series of video profiles of the individuals who work with city, town, and county managers to deliver Life, Well Run. Starting May 2, we'll feature a different local government employee on the Life, Well Run blog every day during Public Service Recognition Week.
Also, to help us celebrate, The Public Employees Roundtable and the Partnership for Public Service developed a series of tools, including a 12-page "How to Celebrate" guide, which offers suggested messaging, activities, and resources designed to educate residents about the importance of public employees and the work that they do. Many of these materials can be easily modified for use throughout the year.