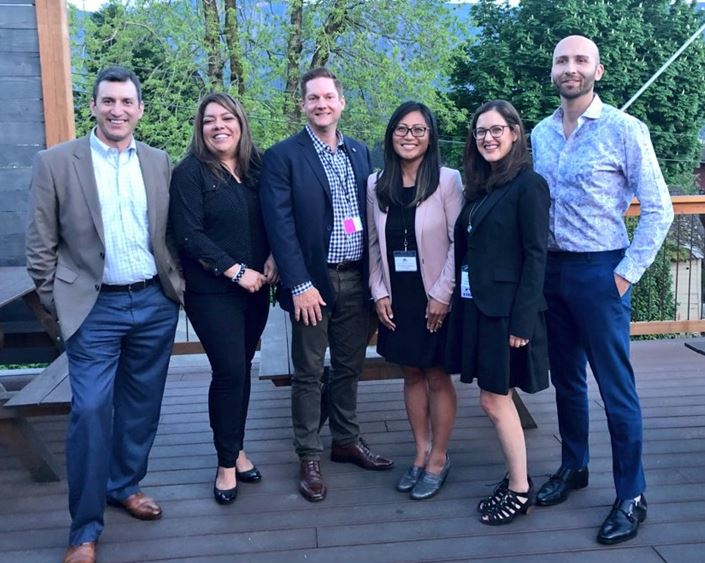 Monica Davis, Management Analyst II, City of Hayward
At the end of each week, I find myself wishing I had more time to cross off more items on my never ending to do list. Maybe next week, I think,  a spark of inspiration will help me get those complicated projects done that I keep rolling forward. I was mulling over all of those to dos and how I would have to put them on pause during the ICMA West Coast Regional Conference, until I started my drive to Skamania Lodge in Stevenson, Washington. The ubiquitous green that surrounded the conference space forced me to take a break from thinking about those weekly to dos. And take a breath.
I was greeted at the President's reception with warm welcomes in an inviting and comfortable setting. I met the other scholarship recipients, and joined in a casual dinner to break bread with fellow attendees. I appreciated the candor in which city managers were willing to share their hardest times and biggest lessons.  
The conference kicked off with an economic overview and forecast of Oregon and Washington with Chris Mefford. Obviously each jurisdiction has its own issues with generating enough revenue and I've never appreciated California's sales tax more than during that presentation. An engaging session, Making What You Have to Say Meaningful and Memorable, by Felicia Logan followed the keynote. This session was so delightful, I didn't even realize we were practicing public speaking. I think we've all experienced a painful presentation and attending this session helped me practice techniques to use at meetings.
The stories that Marc Ott and Karen Pinkos shared during a session on Leading Courageously in Challenging Times were captivating. In particular, Karen's facilitation of El Cerrito to become a sanctuary city resonated strongly with me. As local government employees, we help navigate and execute policies that impact daily lives. We also create a sense of community and place of comfort for our residents. Listening to the shared experiences amongst colleagues gave me a sense of hope on how to lead authentically and with passion.
When I returned to work, I felt reinvigorated. Attending the ICMA West Coast Regional Conference provided me with the opportunity to develop deep connections with peers and mentors and to engage in candid and honest conversations. I was reminded that I am a part of a community of local government employees who also wake up every day trying to make the lives of others a little (or a lot) better. My to do list had only grown during the conference but I felt a renewed sense of vigor to take on those challenges.
Chris Huot, Assistant City Manager, City of Bakersfield
The 2018 West Coast Regional Conference provided four days of engaging, dynamic sessions, with a focus on emerging topics that are common among many communities in the western region. Equally as important, the conference brought together City management professionals from a diverse makeup of cities all striving to improve the communities in which we serve. Notwithstanding the geographical, population or political differences of the communities represented at the conference, it was refreshing to hear the innovative ideas, partnerships and resources being utilized by these communities to enhance the lives of residents and foster sustainable development.
Chris Mefford opened up the conference with an insightful presentation on how cities should approach and view economic development. Chris presented a straightforward, but easily overlooked strategic framework for economic development – focus on being a great place to live, take care of what you got and then go after what you want. This resonated with several attendees, including myself. This linear structure avoids the "be everything to everyone all the time" approach that is pervasive in many regions. This framework provides an important discussion point for communities seeking to reassess how economic development fits within the overall goals and objectives for the community. This was the first of many concepts noted for future meetings with my staff.
In this profession, we are often tasked with explaining complex information to a variety of audiences in simple and clear terms. In many cases, these presentations are designed to express staff's rationale and recommendation on important topics facing the community. Effective public speaking is a critical component of successfully communicating important information to stakeholders. A visual presentation can be comprehensive and eye-catching, however if the speaker does not engage the audience, the overall message can be lost. Felicia Logan walked the group through interactive exercises that made us think critically about choosing words carefully, noting the appropriate time to use non-verbal actions and ways to tailor messages to the audience while avoiding the pitfalls of that are associated with public speaking. This skill set is absolutely necessary for any city management professional and this session shed light on areas in which I can improve my public speaking engagements.    
As leaders, we must make difficult decisions in the best interest of the communities we serve. Simultaneously, we must ensure our team members are striving to achieve common goals and objectives set by the elected bodies. Often, these actions are done in challenging and conflicting environments. The Forged in Crisis session led by Felicia Logan offered unique takes on what common characteristics form great leaders and how to effectively motivate your team when the immediate outlook is unclear. The session reminded us that as a leader you must set a clear vision and expectations when embarking on project or task.  Taking time to clearly understand the strengths and weaknesses of your individual team members is paramount for successful outcomes. Finally, you must be comfortable to surround yourself with those that understand the vision, but are not afraid to bring forward ideas or ways to achieve objectives that may differ from the leader's viewpoint.
Whether you are new to the profession or a seasoned public sector manager, attending professional development events such as the 2018 West Coast Regional Conference provides many great opportunities to gain new perspectives on emerging issues, expand your knowledge base and refine skills that will benefit your community. As cities throughout the state face challenging fiscal circumstances, the Cal-ICMA's scholarship program greatly assists members in being able to attend these types of conferences, which may otherwise not be feasible. As the profession evolves and new challenges face our communities, it is imperative that these continuing educational opportunities exist. Thank you to Cal-ICMA for prioritizing professional development, training, and collaboration between local government management professionals throughout the state. Additional recognition is due to Peter Ibrahim and Tony Winney with the Cal-ICMA Scholarships and Events Committee for selecting a stellar group of scholarship recipients and for their commitment in promoting professional development within the industry.
Monica Martinez, Senior Management Analyst, City of El Cajón
I was able to attend this year's ICMA West Coast Regional Conference in Stevenson, Washington thanks to receiving Cal-ICMA's scholarship!  This was the first time I attended an ICMA conference.  It was an amazing experience and I learned so much.  I took a lot away from the "Making What You Have to Say Meaningful" session on public speaking and learned ways give memorable presentations.  I enjoyed the interaction and exercises in this session.  The speaker brought energy and humor to this session.  Coming from an agency with a high homeless population, I enjoyed the session from Community Supported Shelters.  They provided significant insight and advise with building Conestoga Hut villages for the homeless.   I also made connections and received valuable advice from executives during the speed coaching session and I have had the opportunity to share the advice with others.  The networking during this conference was unbelievable and everyone was so welcoming and engaging.  I spent every evening meeting at a networking event and left the conference with new friends and connections with people who I know I will keep in touch with and see again in the future.  Thank you Cal-ICMA for this once in a lifetime opportunity!
Toni Oasay-Anderson, Management Analyst, City of Cupertino
A special proverb comes to my mind after being able to attend Cal-ICMA's West Coast Regional Conference in Stevenson, WA: "Ang hindi marunong lumingon sa pinangalingan ay hindi makakarating sa paroroonan."  This is an old Filipino proverb that translates to "He who does not look back to where he came from, will not know where he is going."  Thanks to Cal-ICMA for awarding me a conference scholarship which allowed me the opportunity to learn, engage, and network with other local government experts from all over the West Coast region.  The theme for this conference was "Undaunted Courage," a theme that makes me realize how I myself wouldn't be where I am today, without looking back to where I came from, and understanding the courage that my grandfather faced in migrating from the Philippine Islands to the Hawaiian Islands.
I enjoyed learning about courageous leaders, from Felicia Logan's session on "Leading Courageously in Challenging Times," to listening to executive staff talk about personal challenges they've faced as a leaders in their respective organizations.  Felicia Logan led a discussion on the hardships of selecting and maintaining the best crew during challenging times.  On Robert Scott Falcon's ship "The Discovery", men were wanted for a hazardous journey.  In this session, courageous leaders hired for attitude and trained for skill.  This idea of courageous leaders really resonated with me, as the same theme kept repeating itself even during my speed coaching sessions – "soft skills are just as important as the hard skills." It's important to have both. Speed coaching executives emphasized that you can have all of the technical skills, but you can't learn the soft skills and the people skills.
One of the skills I'd like to strengthen are my public speaking skills, and I'm glad I had the opportunity to attend the session on "Making what you have to say meaningful." Felicia Logan led another insightful and interactive session where I learned that nervousness is untapped energy about to be released, and in order to be memorable, you must build a bridge of connection, content, and commitment.  I built some courage and took a step out of my comfort zone to represent my group during the team-building activity.
Speaking of taking a step out of my comfort zone, I do hope that one day I myself will be a courageous leader, similar to how my grandfather took a chance on recruiting other brave family and friends in the same village to board a ship with him – a ship that during World War II, promised a contract job in Hawaii's sugar cane plantations.  Family and friends in the village were afraid of going along on this so-called promised journey, but my grandfather took a risk in stepping out of his comfort zone, leading my family to where we are today.  Without looking back and reflecting on where I came from, I would not have the same inspiration to think about where I am headed. Thank you again to Cal-ICMA for awarding me a scholarship to learn, engage, and network with courageous local government professionals from all over the West Coast.