Leading Amidst Uncertainty
SIMON T. BAILEY
Wednesday Keynote: October 25, 8:30-10:30 a.m.
ICMA's Celebration of Service to the Profession culminates with a presentation by leadership catalyst Simon T. Bailey, former leader of the Disney Institute and founder of the Brilliance Institute, Inc.
Simon aspires to inspire 10% of the world's population to find their passion and release their brilliance. He equips individuals and organizations with practical tools and solutions and provides actionable takeaways that go beyond feel-good content and produce sustainable results. His insights are based on his work with 1,000 organizations on six continents. After working as sales director at the world-renowned Disney Institute, Simon founded Brilliance Institute, which designs and delivers its own proprietary curriculum for personal and professional development. The result of this work is increased productivity, personal accountability, customer retention, and good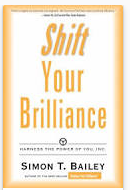 old-fashioned happiness.
Simon is the author of seven books, including Release Your Brilliance, for which The National Academy of Bestselling Authors recognized him with a Quilly Award.  His book, Shift Your Brilliance: Harness the Power of You  is your  roadmap, your call to action; your opportunity to create accelerated results professionally, personally and financially. Shift Your Brilliance  provides: Strategies for sharpening your focus Steps to clear your vision, Actions to harness individual and organizational potential, Tools to unearth what really sets you on fire, and Tips on how to become a Chief Breakthrough Officer.
Simon's expertise equips leaders with tips, tools, and techniques to unleash the potential in their organization's most important asset — people. In the context of change happening at the speed of light, requiring even the most senior leaders to reposition themselves and their organizations, Simon will share core principles for acquiring a forward-looking mindset and discovering the insight needed to be a leader for the future in his keynote, Leadership Amidst Uncertainity.