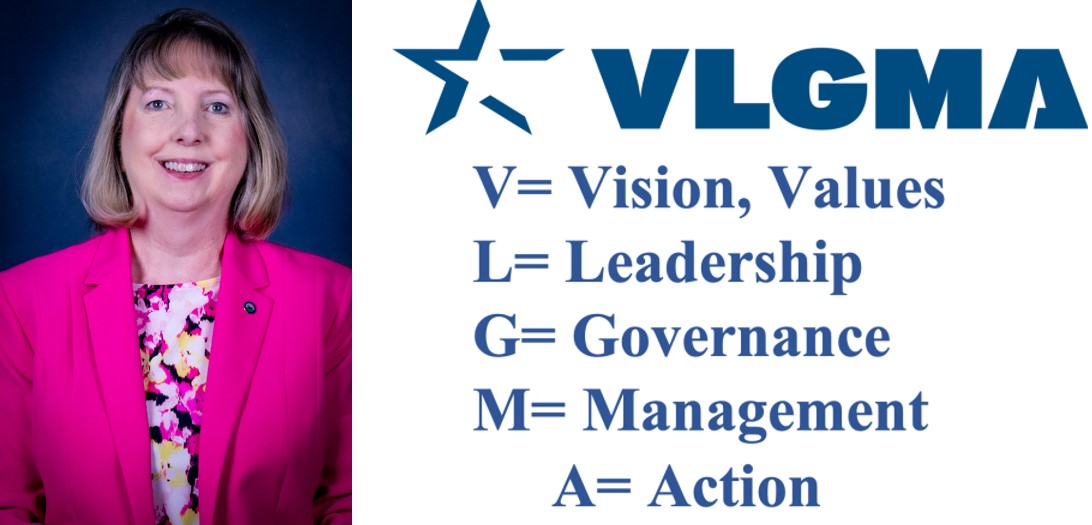 So how do we continue to serve our community during these challenging times? This month we continue this dialog with the VLMGA
"M
= enhance our
Management
capabilities within our Council-Manager structure"
and
"
G
= insisting on strong
Governance
with equity, equality and ethics in all public safety, public health and public services" as informed by the ICMA Code of Ethics (adopted 1924, updated 2020), specifically one tenet to consider this month:
Tenet 9.
Keep the community informed on local government affairs; encourage communication between the citizens and all local government officers; emphasize friendly and courteous service to the public; and seek to improve the quality and image of public service. *
As we explore this tenet, let's again connect with the Declaration of Ideals (adopted in the early 1980s,
Public Management
article, August 2020,
https://icma.org/declaration-ideals
) as still relevant to today's society, culture and community challenges. Of the eleven ideals two resonated with me this month as aligned with the above tenet:
Ideal 3.
Respect the special character and individuality of each community while recognizing the interdependence of communities and promoting coordination and cooperation.
Ideal 7.
Develop a responsive, dynamic local government organization that continuously assesses its purpose and seeks the most effective techniques and technologies for serving the community.
Now let's continue to translate these tenets and ideals into the intersection of our professional and personal roles. As a few examples, have you committed and followed through on actions such as:
Ensured two-way community engagement venues with our community stakeholders; continue thinking out of the box to reinvent past methods in response to the changed environment necessitated by the pandemic health response?;

Delivered regular key topical messaging through various tools even though in-person options are reduced, i.e. PEG broadcast channels, videos, e-newsletters, virtual public hearings with call in comment periods?;

Implemented a program for high school students to serve as non-voting yet active liaisons to Council Boards and Commissions? Committed to educating Pre-K to 6

th

grade residents on the value of local government services?;

Restructured service counters to maximize online options complimented by safe in-person when required? Conducting virtual live building safety inspections?;

Implemented a robust telework program, acquired needed software and infrastructure to execute, and trained staff on electronic tools to maximize ability to still interact via video in lieu of in-person and facilitate quality program delivery?; and

Continued professional development and mental health support commitment to yourself and staff through virtual tools but also creative, interactive and two-way dialog methods?
As we considered over the last few months we can achieve "yes" to all the above questions and so many more! VLMGA members are doing just that and with intentionality on the "
A
=
Action
to encourage communication between all stakeholders of all ages as well as we creating local governments that continuously assesses our purpose and the most effective community services.
As the U.S. honors the legacy of Ruth Bader Ginsburg's decades of public service two of her quotes came to mind as relevant to the ethical and ideal focus of this article:
"As we live, we can learn. It's important to listen" (Interview with Irin Carmon, The Rachel Maddow Show, February 16, 2015)

"I think the Framers were intending to create a more perfect union that would become ever more perfect over time" (U.S. Supreme Court Justice Confirmation Hearings, July 20-23, 1993)
Let's continue doing our part in building up our communities.
There are many options available to achieve our profession's ideals and execute on the tenets. Check out additional eNews articles as well as these resources:
Review ICMA's UNITE conference sessions on such topics as ethics, antiracism, financial and environmental resiliency, as well as leadership;

Educate our youngest residents on the value of local government services by sharing

ICMA's coloring book

in your community and schools;

Community Conversations eNews article- check out the second article presented by Jenny Carroll, Mary Riley Styles Library Director on virtual community panel discussions;

Participate in the October DAO meeting focusing on "Leadership with an Inclusionary Vision";

Utilize resources on VLGMA Civic Engagement Best Practice website page and share your best practices in the upcoming survey update; and

Utilize ICMA Ethics Staff for members to confidentially discuss any questions about our ethical obligations.
VLGMA, as agreed to by your Officers and Executive Board, is pleased to coordinate with Regent University on an ethics research survey for how local government professionals form ethical decisions. VLGMA will receive the analytical report and have an opportunity to discuss the results at a future conference but the research outcome will be the University's and not endorsed by VLGMA. A brief
optional
survey will be distributed soon and I hope you will able to plan for the 20-25 minutes to complete.
Welcome to our newest VLGMA members Shalom Black, Human Services Project Manager, County of Loudoun; Chad Monday, Student, Liberty University; Monica Spells, Assistant County Administrator, County of Loudoun; Matthew Spuck, Town Manager, Town of Onancock and Elizabeth Via-Gossman, Assistant City Manager, City of Manassas.
Stay safe, healthy and remain strong, Cindy
Focus on the Future – A Look at VLGMA's Strategic Plan
Focus on the Future – A Look at VLGMA's Strategic Plan
By Craig Meadows, VLGMA President-Elect
In last month's newsletter, I shared with you the first of several articles related to VLGMA's Strategic Plan, and discussed with you the first focus area of our plan – Communications and Networking. My hope is that the article stimulated you to think about ways to become more involved in VLGMA's social media outreach and/or website creation and development; we need your support!
This month, I'd like to briefly focus on a second strategic focus area – the Next Generation of the Profession. Why does VLGMA consider this important? While many of you are still early in your careers in local government, there are many of us (me included) that have been in local government for many years, and who have a strong desire to "give back" to our profession and to our professional association. This focus area of the strategic plan states that we will "support the next generation of the profession by providing outreach, mentoring activities, and financial support for educational opportunities."
Jenny Carroll, Library Director, Falls Church
Providing information and an outlet for community discussion and participation on relevant topics.
Community Conversations is a program series for adults at the Mary Riley Styles Public Library aimed at getting library patrons involved with talking about pressing contemporary topics with local experts in the relevant fields. We had been discussing this type of programming internally for some time and the intention was to start once we were in our new building (May/June 2021). In the new building, we would have ample room and a new A/V system to better accommodate patrons and speakers. Then COVID-19 happened and with it the workplace shift in virtual meetings, and in our case, library programs.
Have a topic for a future Community Conversations article to suggest?, please contact Cindy Mester (
cmester@fallschurchva.gov
)
John Hughes, Assistant City Manager, City of Lynchburg
Life lessons come in various forms. My paternal grandmother often quoted poetry as a means of affording us both literary education and a note to her struggles. Langston Hughes' iconic poem
Mother to Son
, was a favorite. Visualizing the ease of maneuvering a crystal stair versus the reality of climbing over torn boards, splinters and tacks was (and still is) a sobering notion. On the maternal side, a sense of fairness prevailed with a TRUE open-door policy for neighbors. Both sets of ancestors were hard- working, socially-active, and loving. They stressed the importance of education as a great equalizer and a tool for maintaining respect. Also, both recalled times of despair, oppression, mistreatment, and disenfranchisement. I wish I could speak with my grandparents now. I wonder if they would be surprised at the stories of their grandchildren. What would they say today to the conflict and unrest seen in the world? Could they even fathom that so-called "unalienable" rights continue to be restricted?
Civic Engagement - City of Falls Church
By Nancy Vincent, Director, Department of Housing and Human Services,
We, in local government, are greeting each day with new challenges. Police departments have come under widespread scrutiny. COVID-19 has disrupted the delivery of services across every department, and we all have a sense of fragility and uneasiness. In this new environment, community involvement and outreach is key.
Falls Church has responded to the outcry heard across the nation and to the Obama Foundation's Mayors pledge challenging cities "to review and reform use of force policies, redefine public safety, and combat systemic racism within law enforcement," by establishing a Use of Force Review Committee. This 13-member committee is made up of seven community members, five city staff members, and one school staff. City residents make up the majority and one serves as Chair. We did not want staff to outweigh community.
VLGMA Membership Renewal Reminder
Remember to renew your VLGMA membership!
VLGMA membership renewal is currently underway. The membership year started July 1, and about one-third of the membership has renewed so far – please take a few minutes to renew your membership for FY2021:
https://vlgma.vml.org/vlgma-membership-information/
If you haven't already renewed, consider the agency options available: standard agency (up to five individuals) and large agency (up to 10 individuals) memberships. This way, more of your colleagues can join as a group and save.
Institute of Government Update
I hope you and your staff were able to take time to participate in ICMA's #UniteLocalGov virtual conference last week. I enjoyed the presentations that I was able to watch live and look forward to taking time in the future to watch more sessions on-demand. We did miss hosting the VLGMA reception this year, but hopefully we can all meet again in Portland in 2021. Congratulations to Ed Daley for being recognized for his ICMA Distinguished Service Award and Bonnie Svrcek for being named the first recipient of The League of Women in Government Navigator Award!
Our SEI/LEAD team will host our second virtual alumni program on October 21. Please be on the lookout for information about registration soon. FYI - We are continuing to plan for what SEI and LEAD will look like in 2021. More to come!
Over 95% of VIG member localities have renewed for FY2021. If you haven't renewed yet or have questions about membership, please reach out to me (
charles.hartgrove@virginia.edu
) or Jennifer Nelson (
jenn@virginia.edu
) for more information. We would be happy to share with you how we are evolving our services to support you and your organization.
The Local Government Certificate Program is off to a great start this fall semester with over 40 students participating in four courses with 8 professors involved in Virginia local governments. Students are tackling challenging case studies, accessing valuable management tools, and developing exceptional leadership skills to positively impact our communities. We are continuing our recruitment efforts and answering questions about the Local Government Certificate Program through 2 virtual webinars led by Dr. Stephanie Davis.
Please find session details below:
Virtual Retirees' Reunion - 2020
For the past two years, VLGMA has organized a reunion luncheon for retirees–the first at the Hanover Tavern in Hanover County, and the second at the Three Notch'd Kitchen and Brewery in Charlottesville. Unfortunately, we cannot hold the event this year due to the pandemic, so we will be organizing a series of small-group Zoom meetings this month and next so retirees can reconnect with some of their peers.
A patient herald on the roadside
watching the day's activities go by,
comfortably living as a kind of paradox
both our friend and foe – the ambivalent mailbox.
Enveloping messages to simply discard
or perhaps, a treasure to keep and guard.
Each day it's up to me to choose
the impact I give this day's hand delivered news.
As you open the parameters of your mind,
what mail do you discover and find?
Junk accumulating to simply throw away
or perhaps a hidden, heavenly communiqué?
As we meditate and silently abide
perhaps a letter of inspiration will arrive.
Awareness, like the mailbox, invites you to explore
the content of life's open door.
Position Changes And Other Events
Steve Cover, Virginia Beach deputy city manager of public safety since 2016, has announced his retirement at the end of 2020. He previously served the city as the fire chief and began his career as a firefigher when he was 16. He is the past president of the Virginia Fire Chiefs Association.

Patrick Roberts, Suffolk city manager since 2015, has resigned effective October 2. He also served Suffolk as deputy city manager and assistant director of planning and community development. He previously worked for the City of Richmond.

Terri Morris, Floyd County administrator since 2015, announced her impending retirement at a recent board of supervisors meeting. She has served the county in various roles for over 35 years.

James Ervin, Rocky Mount town manager since 2007, announced his retirement effective April 2021. He previously served in leadership positions with the city of Bedford (now town). He is the immediate past president of VLGMA.

Tarron Richardson, city manager of Charlottesville since 2019, resigned his position. He previously served in leadership positions in DeSoto, TX, Richmond, VA, and Coatesville, PA.

Mark Moore, Pittsylvania County director of parks and recreation since 2011, has been named as the assistant town manager of Rocky Mount effective October 5. He has previously served in various parks and recreation posltions in Botetourt County and the cities of Salem and Roanoke.

Lydia Pettis Patton, city manager of Portsmouth since 2015, has announced her resignation effective immediately. She had previously announced her retirement effective at the end of the year.