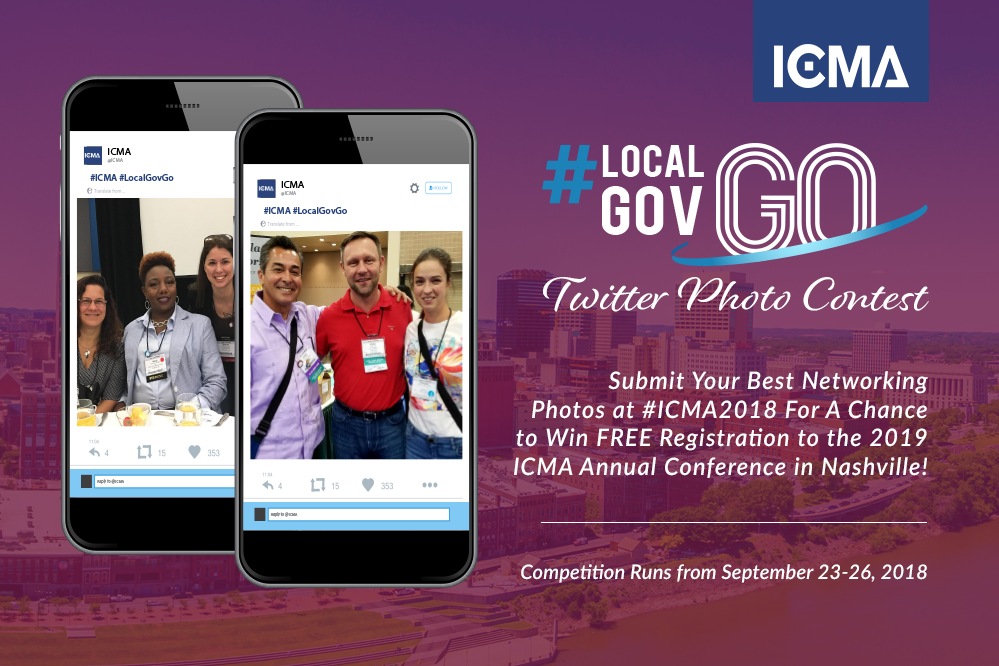 We are launching the second edition of the #LocalGovGo photo contest at the 2018 ICMA Annual Conference in Baltimore! Participants will have four days (September 23-26) to submit their photos that best illustrate networking at conference events. Networking is an essential part of the ICMA Annual Conference. It helps you gain more knowledge of the profession, strengthens relationships, raises your profile, opens doors for new job opportunities, and widens your support network.
Wouldn't it be nice to network with others in Baltimore knowing that you're going to connect with them the following year in Nashville? To make this happen for you, ICMA is again featuring the #LocalGovGo photo contest for a chance to win free registration to ICMA's 105th annual conference in Nashville!
New this year: The #LocalGovGo photo contest will be held on the @ICMAEvents twitter account. So follow us and get ready to show us the connections that you make in Baltimore!
To win free registration, follow these three simple steps:
1. Take a photo of yourself networking with other attendees. 
From September 23-26, take creative selfies while networking with conference participants at any conference session or event. Bonus: Network and share your photo at one of these events for an even greater chance to win:
2. Upload and tag your photo. 
Post your best networking photos to Twitter, tag @ICMAEvents, and use the hashtag #LocalGovGo to have your photo included in the competition. Be sure to include the name/description of the event or session. Note: There is no limit to the number of photos that you share!
3. Win. 
The participant with the best networking photo (chosen by ICMA staff) wins free registration to #ICMA2019 in Nashville! Winner will be announced Tuesday, October 2 in Leadership Matters.
Rules:
By submitting a photo, the submitter grants ICMA the right to use the photo in promotional material for future Conference events.

Any submissions that represent inappropriate or offensive material will be removed and disqualified from the competition.

Photos taken before September 23 and after September 26 will not be considered.
Take a look at last year's #LocalGovGo winner, Sharon Eveland, city administrator of Clintonville, Wisconsin, who took home the prize of free registration to Baltimore! From students to board members, Sharon shook hands and rubbed elbows with every stage of ICMA's member base.
See below for some great examples of participation in the #LocalGovGo contest last year:
Heather Jenkins
Jesus Nava (with Karen Pinkos)
Karen Pinkos
To visit the current gallery of #LocalGovGo photos from the 2017 ICMA Annual Conference, visit our Instagram page.
Questions about the #LocalGovGo photo contest? Email Abbas Sabur at asabur@icma.org. 
Registration is still open for the 2018 ICMA Annual Conference. Join us September 23-26, 2018 in Baltimore!