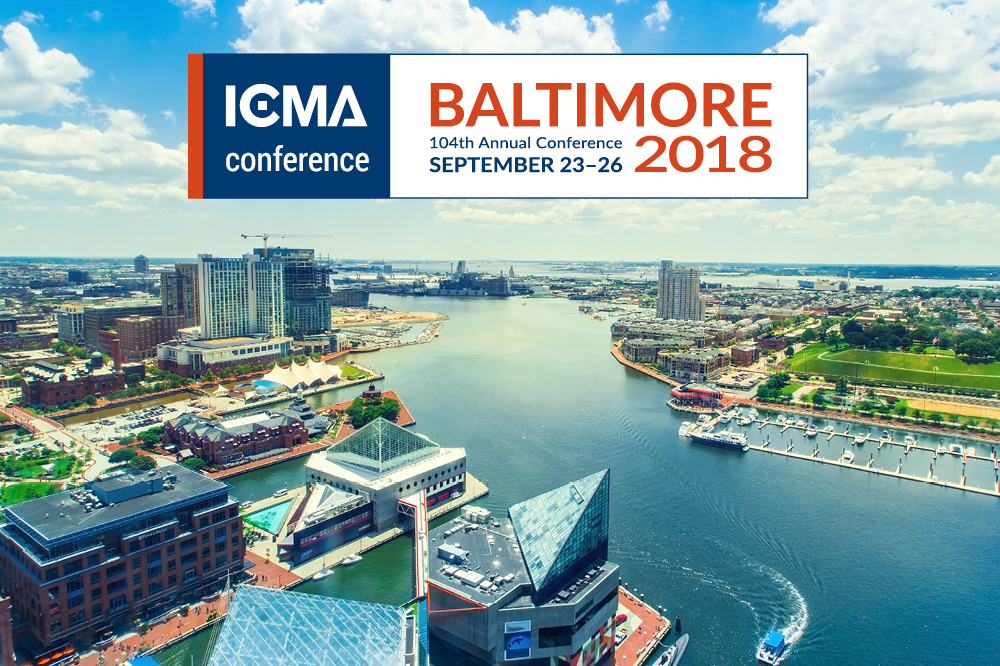 The Maryland City/County Management Association (MCCMA) and ICMA's 2018 Conference Host Committee are excited to welcome you to Baltimore for ICMA's 104th Annual Conference!
ICMA's 104th conference, like those before it, will offer attendees an abundance of innovative ideas and practical strategies for managing local governments in today's complex environment while also providing countless opportunities for professional and personal renewal and networking.
Download the Preliminary Program
Download the Host Committee's Guide: Discover the Charm of the Baltimore Region
Learn more about ICMA's 104th Annual Conference: Registration, Hotel Reservations, Baltimore Guides, and much more.
Don't miss the following events featuring Maryland Programs and/or MCCMA members:
The Stat Model for Data-Driven Management
Sunday, September 23 12:45 PM - 2:45 PM
Since 2013, performance management (or "Stat") practitioners from city and county governments from across the National Capital Region and beyond have been meeting twice a year under the banner of Mid-Atlantic StatNet (MASN). Baltimore's CityStat program was one of the first in the country to adopt group data analysis with rigorous follow-up. That approach has since inspired a regional MASN as well. Join us to explore implementation, roadblocks, and efforts toward continuous improvement.
Mindfulness at Work, Home, and On-The-Go
Monday, September 24 11:15 AM - 12:15 PM
What is Mindfulness, and how can it help you? Learn practical, easy and fast strategies to decrease stress personally and professionally, enhance productivity for you and your team, make communication easier, and potentially even improve biometrics. In this session, we will alternate between information and experience. You will have opportunities to learn new techniques and then test drive them! No experience needed, appropriate for all levels. Sponsored by Cigna.
Moderator: Nicole Ard, City Manager, City of Greenbelt, Greenbelt, MD
The Power of Light to Revitalize Cities
Monday, September 24 12:30 PM - 1:30 PM
Light has the power to transform cities—from public squares, recreational zones, underpasses, bridges, and monuments to entire skylines. Learn how cities as diverse as Little Rock, Arkansas, and Baltimore, Maryland, are using light in their place-making strategies. Presented by Signify (formerly known as Philips Lighting). 
Toolkit for Difficult Conversations in Your Community
Wednesday, September 26 11:15 AM - 12:45 PM
Conversations about social equity and inclusion are crucial, but they can sometimes be difficult. With roots in historical inequities, these issues are influenced today by broader economic injustices. Responses must be comprehensive and multifaceted. Participants in this forum will work with experienced facilitators to develop dialogue skills and gain insights for conducting successful community conversations. This process can be used for a wide range of other topics as well, such as creating a safe workplace, budgeting, and land use development.
Forum Leader: Dawn Ashbacher, Interim Public Works Director, Town of Purcellville, Frederick, MD
Celebrate Maryland during the following events:
Evening Highlights: Celebrating Baltimore
Maryland Science Center
Saturday, September 22 5:30 PM - 7:30 PM
Situated next to Baltimore's Inner Harbor, the Maryland Science Center is one of the original structures that drove the revitalization of the harbor from its industrial roots to a thriving downtown destination. Three levels of modern, hands-on exhibits focus on space, physical science, Earth science, the human body, and the Chesapeake Bay's native blue crabs. Catch up with colleagues and enjoy drinks and hors d'oeuvres while exploring this fascinating venue and its great views of the Inner Harbor.
Adults/youth, $45; under 6 free. Price includes light hors d'oeuvres, venue rental, entertainment, coordination, and gratuities. Visit the Host Desk in the convention center before the party for restaurant information and dinner reservations.
Welcoming Reception: A Taste of Baltimore
Sunday, September 23 5:00 PM - 7:00 PM
Experience the diversity of Baltimore and Maryland and delight in the area's distinctive flavors with the opening of the ICMA Exhibit Hall in the Baltimore Convention Center.
The cost of the reception is included with the registration fee. Tickets for complimentary registrants are $45 for adults and $35 for youth ages 6-16: children under 6 come for free. Price includes hors d'oeuvres, coordination, and gratuities. Visit the Host Desk in the convention center before the party for restaurant information and dinner reservations.
B&O Railroad Museum
Tuesday, September 25 6:00 PM - 10:00 PM
Designated as a U.S. National Historic Landmark and part of the Smithsonian Institution, the B&O Railroad Museum has one of the most significant collections of railroad treasures in the world as well as the largest collection of 19th-century locomotives in the United States. A major restoration following a snow-related roof collapse in 2003 allowed the museum to upgrade many of its facilities so that it now can double as a beautiful event venue where ICMA attendees will enjoy food, drink, and entertainment.
Adults/youth, $60; under 6 free. Price includes dinner, venue rental, entertainment, transportation, coordination, and gratuities.
Tours: Celebrating Maryland
Welcome to Charm City!
Saturday, September 22 12:30 PM - 4:30 PM
Sunday, September 23 12:00 AM - 12:00 AM
This whirlwind driving tour of Baltimore begins at Federal Hill and proceeds to Charles Street to the fashionable brownstones and art galleries of Mount Vernon. Moving on to the city's cultural center, take in the Maryland Institute College of Art, the Opera House, and Symphony Hall before visiting the hipster Hamden neighborhood immortalized by John Waters' classic Hairspray and where the term "hon" was coined. The tour ends at historic Fell's Point and Little Italy.
Adults/youth, $55
Historic Waterways: Annapolis, Maryland
Monday, September 24 8:30 AM - 4:00 PM
The vibrant Annapolis waterfront is rife with echoes from four centuries of history. On this walking tour, explore the city's colonial influence, its architecture, and the impact of its seafaring habitants, as well as the Maryland State House. After lunch on your own, visit the U.S. Naval Academy, where 4,000 future naval officers live and learn. Travel time is about 60 minutes each way.
Adults/youth, $105
Authentic Italia
Monday, September 24 1:00 PM - 4:00 PM
One of Baltimore's most charming neighborhoods, Little Italy is rich with history and authentic Italian culture. Led by an expert guide, you'll meander through the neighborhood and talk with the residents to learn what makes Little Italy so special. Along the way, you'll sample Italian specialties and taste recipes, passed down through generations, that will make you think you're in Rome. Bring your walking shoes.
Adults/youth, $115
Baltimore's Classic Architecture
Tuesday, September 25 9:00 AM - 12:00 PM
Discover the charm of Baltimore's neighborhoods and traditions. First stop will be the Baltimore Basilica, which underwent a major restoration in 2005; built from 1806 to 1821, the Basilica is considered America's First Cathedral. You'll then head to Corpus Christi Church; its consecration in 1891 was a major social and liturgical event that lasted more than 14 hours. It is home to five Florentine mosaics on glass depicting the life of Christ, the likes of which can be seen only at St. Mark's Cathedral in Venice and the Vatican.
Adults/youth, $65
Sports: Get Out and Get Fit in Maryland!
Golf Tournament
Sunday, September 23 6:00 AM - 2:00 PM
Play at the premier public course in the Mid-Atlantic region and the #1 rated public course in Maryland. Designed by Pete Dye, Bulle Rock is ranked in the Top 100 listings of every major golf publication. Located about 45 minutes from the Baltimore Convention Center in Havre de Grace, the course features 18 distinctly different holes sprawled over 230 acres. The tournament will be a four-person scramble format, and prizes will be awarded for the longest drive, the ball that lands closest to the pin, and the best team score. The Host Committee will contact players before the conference about transportation logistics, partner preferences, and club rentals.
$135. Ticket price includes greens fee, cart, range balls, Bulle Rock bag tag, tee packet, transportation, breakfast, lunch, and a $5 golf shop credit.
5K Run/Walk
Sunday, September 23 7:30 AM - 10:30 AM
See beautiful sites, spend time with your colleagues, and enjoy such iconic landmarks as Fort McHenry and the Domino Sugars Sign as you race along the Baltimore Harbor in the Canton neighborhood. Runners/walkers of all levels are invited to participate.
$35. Ticket price includes race registration, awards, race shirt, and transportation.
Harbor Waterfront Kayak Tour
Sunday, September 23 8:00 AM - 10:30 AM
Sunday, September 23 11:00 AM - 1:30 PM
Departing from the Maryland Science Center, you and the seasoned tour guides of Baltimore Outdoor Recreation will explore four to six miles of the Inner Harbor. The guides will highlight several projects, including floating wetlands, oyster nurseries, and the world-famous Mr. Trashwheel, that work together to clean our urban waterways. Not recommended for beginning kayakers. Please dress to be outdoors, and bring a reusable water bottle. Limit: 15 participants.
$20. Ticket price includes single kayaks, paddles, vests, and seasoned tour guides.
Gwynns Falls Bike Ride
Sunday, September 23 8:45 AM - 2:00 PM
This 11-mile bike tour explores programs and partnerships that connect West Baltimore along the trail to the Inner Harbor. This is a rain-or-shine opportunity, so come prepared for the weather. Gywnns Falls Park and Leakin Park provide a historical context for studying park development and management in an urban setting. Key learning points include park development history, current uses, funding, and management challenges. Along the way, cyclists will pedal through parks and open space with historical and cultural significance. The tour will include a break for lunch. Limit: 30 participants 
$25. Ticket price includes bikes, helmets, a follow truck, transportation, and experienced tour guides.
Get Out and Paddle: Middle Branch Park and Baltimore Water Trails
Sunday, September 23 9:30 AM - 1:30 PM
Explore Baltimore's coastal areas near the Inner Harbor via kayaks and canoes. Learn about the important role that public access to water and programming plays in an interdisciplinary approach that highlights public works projects, local watershed associations, and other local initiatives. If Baltimore City's eighth graders can do it, so can you! Dress in layers and bring a change of clothes, a reusable water bottle, and sun protection. Limit: 40 participants. 
$25. Ticket price includes all equipment, and staff to assist all skill levels. Transportation to the departure point will be on your own.
Field Demonstrations: See the Innovative Projects in and around Baltimore
Healthy Harbor EcoTour
Monday, September 24 9:45 AM - 10:45 AM
The Waterfront Partnership's Healthy Harbor Initiative works to restore and protect the city of Baltimore's most valuable asset: the Baltimore Harbor. The health of the harbor is suffering from sewage and trash pollution, storm-water runoff, sparse living shoreline, and widespread community indifference. To help alleviate these problems and engage the public in urban environmental solutions, the partnership has installed and manages various green infrastructure projects along the Inner Harbor's promenade. Participants will learn more about floating wetlands, oyster gardens, rain gardens, and the Inner Harbor Water Wheel—a.k.a. "Mr. Trash Wheel." This demonstration will involve walking, so wear comfortable shoes and dress for the weather. $20. 
Western Police District Station Renovation: More Than a Building
Monday, September 24 9:45 AM - 12:15 PM
Tuesday, September 25 12:45 PM - 3:15 PM
Baltimore's Western Police District covers one of the city's most troubled neighborhoods. In 2015, multiple clashes between protesters and police officers occurred at the station after 25-year-old Freddie Gray suffered fatal neck injuries while in police custody. The station was blocked off from the community by barricades and watched over by National Guard troops. Today, the station is a very different place. By enhancing the work environment and making the station a positive hub for community activity, extensive renovations—undertaken with input from about 50 community members—have converted officers from "warriors to guardians." The bus trip takes 10–15 minutes. $20. 
Downtown Baltimore, the Inner Harbor, and the Bromo Tower Arts District
Monday, September 24 12:45 PM - 4:00 PM
Tuesday, September 25 12:45 PM - 4:00 PM
The historic core of downtown Baltimore is experiencing radical change, as the commercial district has diversified to become the city's fastest-growing residential neighborhood, and one of its most integrated. In its progression from dilapidated piers to a tourist and recreational anchor, the Inner Harbor sparked the development of Pratt Street, Harbor East, and much more. This field demonstration will include visits to the Inner Harbor and new apartment buildings that have opened in restored historic structures. Participants will also visit the Bromo Tower Arts District, Baltimore's newest arts district. The bus trip takes 10–15 minutes. $20. 
Druid Lake Water Protection Project
Monday, September 24 12:45 PM - 3:15 PM
The Druid Lake Water Protection Project serves two purposes: to support the city of Baltimore's water supply and to enhance the community's enjoyment of Druid Hill Park. The project will result in the installation of two underground drinking-water tanks on the western end of Druid Hill Lake to meet federal water quality standards. The tanks will hold over 54 million gallons of water. The approximately $140 million project will mean a slightly smaller Druid Lake but will create 14 additional acres of land on the western end of the reservoir, where the water tanks are buried. The resulting green space will include a new amphitheater and wider, better-lit walkways. The bus trip takes 10–15 minutes. $20. 
Historic Ellicott City Flood: A Story of Recovery
Monday, September 24 12:45 PM - 4:00 PM
In July 2016, Ellicott City experienced a one-in-a-thousand-year rainstorm. Hundreds of cars were swept away, dozens of buildings were damaged, nearly 200 residents were displaced, and two people died. A year after the flood, 98 of the 104 flooded businesses reopened their doors—a 94 percent re-opening rate. On May 27, 2018, Ellicott City was once again devastated by even more severe flooding, killing one person, causing severe infrastructure damage, and once again flooding businesses and residences. The Howard County Economic Development Authority will share how it is approaching this latest setback to craft a transformative vision that will make Ellicott City "stronger, smarter, and safer."This demonstration will involve considerable walking and steep inclines, so wear comfortable shoes and dress for the weather. The bus trip takes 20–25 minutes. $20.  
Structural Racism: A Tale of Two Baltimore Neighborhoods
Monday, September 24 12:45 PM - 3:15 PM
Baltimore's Bolton Hill neighborhood is a compact collection of 19th-century rowhouses. In response to redlining in the 20th century, its predominantly white, middle-class residents successfully lobbied for various neighborhood improvements. In the 1970s, neighbors pooled resources to fund mortgages for buyers the banks would not service and petitioned to become a local historic district, providing tax incentives for historic preservation. A few blocks away is the Upton/Marble Hill neighborhood, the historic center of professional black Baltimore before fair housing laws allowed for desegregation. Although the homes here are identical to those in Bolton Hill, many are abandoned and valued at a fraction of their neighbors'. Despite its strong legacy of African-American achievement, the neighborhood today demonstrates the effects of structural racism in Baltimore. This demonstration will involve walking, so wear comfortable shoes and dress for the weather. The bus trip takes 10–15 minutes. $20. 
House by House: The Revitalization of the Oliver Neighborhood
Tuesday, September 25 12:45 PM - 3:15 PM
At one time, nearly every third house in the Oliver neighborhood in East Baltimore was vacant. Today, only 68 of those approximately 750 abandoned properties remain. The revitalization of the Oliver Neighborhood arose out of tragedy. In 2002, seven members of the Dawson family died when drug dealers set fire to their home in retaliation for reporting drug sales. Local clergy and residents subsequently joined forces with Baltimoreans United in Leadership Development (BUILD), and BUILD partnered with TRF Development Partners, a nonprofit created from the federally certified Reinvestment Fund, to provide the foundation for the neighborhood's transformation. This field demonstration will highlight the innovative approach, financial tools, and strategies used to revitalize the Oliver neighborhood—literally house by house. The bus trip takes 10–15 minutes. $20.