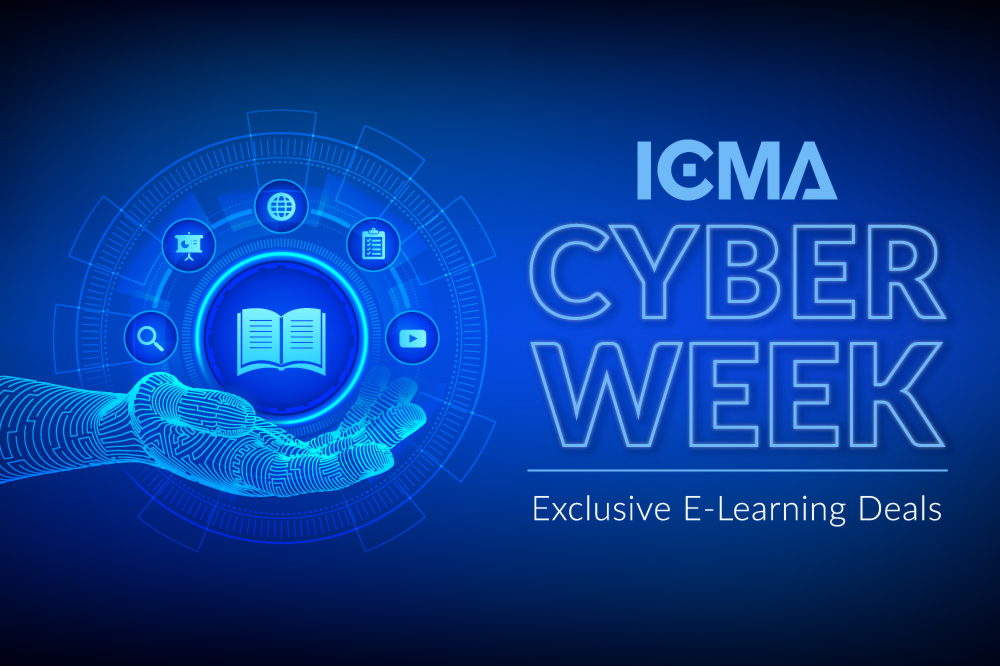 Starting Monday, December 2, Cyber Week deals will be available to members and nonmembers on three popular ICMA University e-learning products: Local Government 101, Online Classroom Webinar Subscriptions, and the 2019 ICMA Virtual Annual Conference Archives. These deals will end Friday, December 6. 
Here is more information about the e-learning programs we are offering at a discount during Cyber Week:
New Annual Webinar Subscriptions
Cyber Week Deal: $75 off
With our Webinar Subscription Program, you and your staff can have year-round access to subject matter experts and industry-leading education delivered right to your desk or conference room. You'll also have access to more than two dozen, 90-minute webinars a year that address such key areas as budgeting, public safety, citizen engagement, human resources, and council-manager relations.
Our webinars have long been used by jurisdictions to stay on top of trends in the profession and master new skills. Many members even create learning events around ICMA University webinars—hosting their teams in a conference room for viewing and discussion.
>> DISCOUNT CODE: SUBSCRIBE75 (Enter discount code at checkout)
2019 Virtual Annual Conference Archives
Cyber Week Deal: $99 for members and nonmembers
Available regularly for $299 members/$399 nonmembers, the 2019 Virtual Annual Conference Archives include: 4 keynote speakers (keynote session access ends 3-6 months after original broadcast), 2 featured speaker presentations, 16 of the most compelling sessions, and coverage from the floor brought to you by ICMAtv.
Topics include: leadership, equity and inclusion, sustainability, smart communities, innovation, public safety, disaster recovery and resiliency, and more.
>> DISCOUNT CODES: Members - CYBERWEEKM / Nonmembers - CYBERWEEKNM (Enter discount codes at checkout. Codes are case-sensitive.)
Local Government 101 Online Certificate Program
Cyber Week Deal: $150 off
This interactive online certificate program immerses you in the special challenges that confront the local government manager today. Taught by experienced managers and local government experts, it is designed to impart real-life experience, best practices, and sound advice in the areas most important to a manager's day-to-day role.
Choose your own learning track to best suit your needs:
Track 1: Local Government Fundamentals Plus Equity and Inclusion
Track 2: Local Government Fundamentals Plus Disaster Preparedness
>> DISCOUNT CODE: CYBER150 (Enter discount code at checkout)


ICMA is committed to ensuring you and your organization have access to best-in-class ideas, education, and training in local government management heading into 2020. Get ready to save!