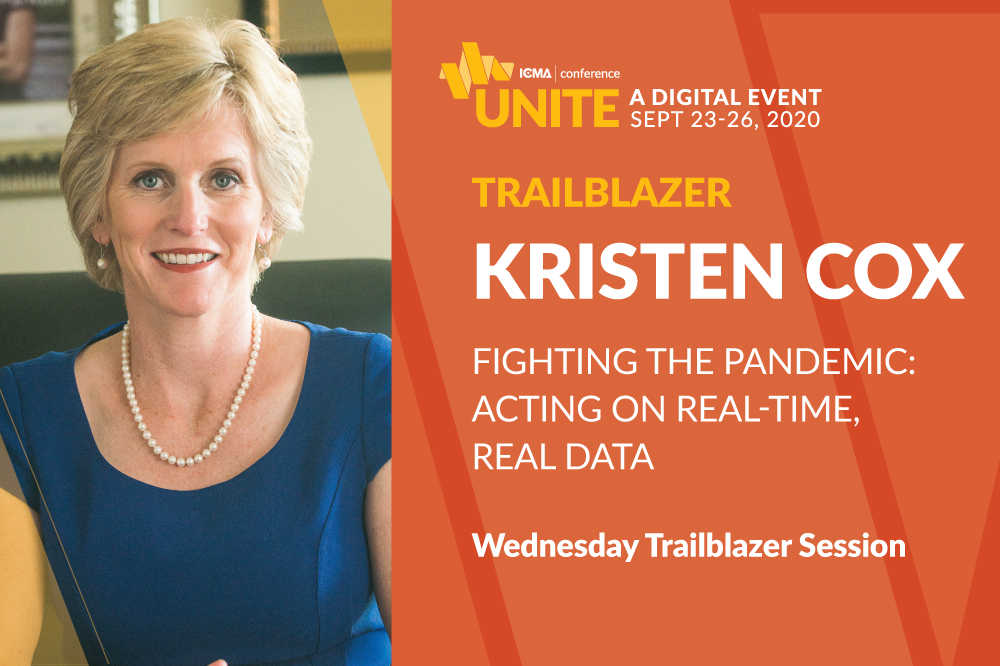 At last year's annual conference in Nashville, Kristen Cox introduced attendees to her Seductive Seven, a list of seven things we think we need in order to solve a problem. Cox returned to ICMA UNITE with further insight into the use of data for local government managers, gained from helping lead the state of Utah through the COVID-19 crisis as its executive director of the Office of Management and Budget.
At the beginning of the COVID-19 crisis, Cox was buried under countless projections based on data we didn't have nor had ever experienced before. It became imperative that Cox learned to look past all the "noise" to focus on Utah's vision for the future. Likening her process to the cane travel method taught to her as she became blind, Cox used data to help her discover the path forward for Utah through quick adaptation and management.
Whatever problem we are trying to tackle – whether it is COVID-19-related, balancing our budget, improving service delivery – we have an enormous amount of data at our disposal to either help or hinder us. There are a series of choices we make when utilizing data, divergent paths that allow us to find a way to effectively manage or become lost in a series of numbers. Cox recounted the words of poet Robert Frost, "Two roads diverged in as wood, and I- I took the one less traveled by, and that has made all the difference." As managers we face four diverging paths when we use data, and Cox encourages us to take the road less traveled.
The Four Diverging Paths in Data Management
Do we create the future or try to predict it?
As government employees, we are inundated with information, especially in the wake of COVID-19. In uncertain times it is easier to predict than manage, but according to Cox, "Projections give us the illusion of certainty where certainty doesn't exist." Rather than building out projections six months in advance and beyond, we need to refocus on using data to help us manage our issues day-to-day. In the midst of so much unknown, Utah started by identifying where it wanted to be despite what may happen through setting goals in unemployment, public schools' ability to reopen, and hospital mortality rates. With an ambitious vision for the future clearly defined, they were able to react quickly to the changing environment to meet all these goals."
Ask yourself how you are working to create your future: What would you imagine were possible if you could address every obstacle in your way? What steps do you need to take to reverse-design your path there?
Do we hypothesize and validate or collect and hope the answer emerges?
There is enough data to occupy our entire day collecting, measuring, and analyzing to build dashboards and widgets that don't help us improve our services or solve our problems. With the limited time and attention we have and the unlimited amount of data at our disposal, Cox says, "We must shift through the noise and find the data that really matters, but that begins with asking the right questions." Think logically about your top priorities and question what obstacles are getting in the way of reaching them. Once these are clear, data can then be used to test and validate these assumptions.
Ask yourself: What is the key question you need to answer? What is the limitation blocking you from achieving your goals? What data do you need to validate your assumptions and what changes do you need to make based upon these answers?
Do we drive change or evaluate what happened?
We can measure our weight on a scale every day, but that data means nothing if we do not have signals identified that tell us what actions we should take. Signals tell us what to do, measures tell us what we did. Look at your processes critically to embed clear signals within them that help trigger response as the work is happening rather than waiting for after-the-fact measures. Signals take a lot of upfront work but allow us to drive change in real time that ultimately results in large improvements in our service delivery.
Ask yourself: What signals need to trigger the right behaviors and decisions? What is preventing your organization from adapting quickly?
Do we measure how well the parts work together or how each part performs on its own?
Government can feel so complex and we tend to break it down to a granular, line-by-line level to measure each individual part. The opportunity to improve is everywhere, however, as leaders we need to go up a level and look down on our systems to see how all the problems work together. Management is about finding the bottlenecks holding the entire work back and then deliberately using data to improve where it will make the biggest impact.
Ask yourself: How are you using data to ensure products, decisions, and services "flow" through your systems? Do you know why things get stuck or have poor quality?
Want More?
Registration for UNITE: A Digital Event is still open! All sessions will be available on-demand through December 31, 2020. Register today!