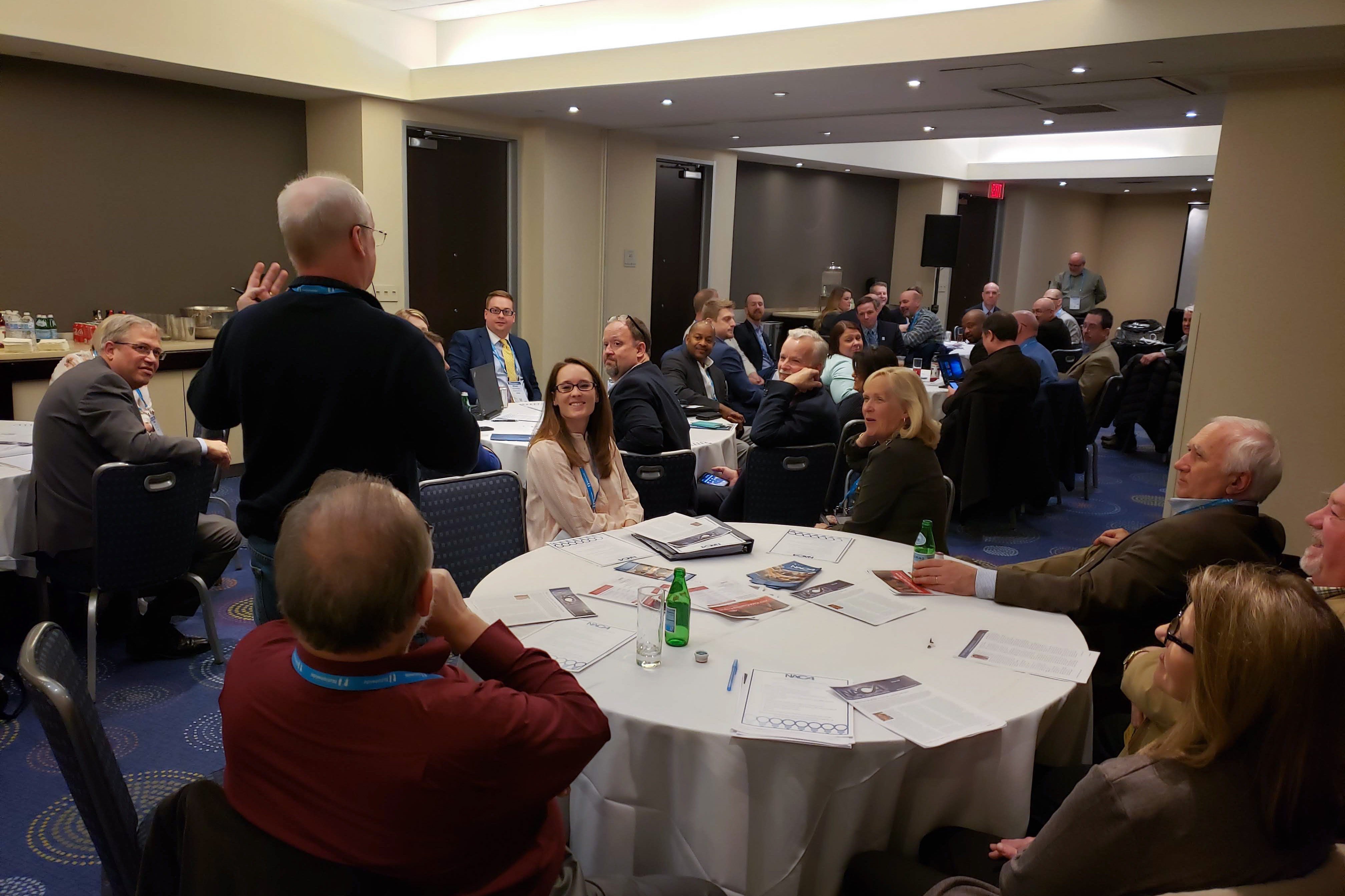 Topics:
How can NACA work with NACo to address legislative issues?

A survey on legislative priorities should be sent to the full membership. That information, along with input from the NACo Policy Steering Committee representatives should be used to create a formal letter from NACA to NACo articulating legislative priorities from the CAO perspective.  

Social issues: global warming, racial tensions

Several communities are working on policies to address the impacts of the climate crisis.
County A has had greenhouse gas initiatives that have stopped housing programs, an unintentional consequence. They are currently working with environmental coalitions to find compromises on existing legislation. 
County B has seen an increase in the amount of freeboard from 1 foot to 2 feet causing roads to flood far more often. 
County C has created an energy opportunity plan. The community outreach process had to become more aggressive, aiming to reduce energy costs for residents and businesses, and having the aggressive goal of reducing the county's carbon footprint by 75% by 2050.
County D has been enduring devastating beetle kill (forest destruction). The forest service won't let them in to remove dead trees and address additional damage from record rainfall. For example, endangered bird populations won't allow them into the waters to make improvements to roads and bridges. The energy grid also can't be improved due to a protected plant species location. 
County E is facing major issues due to sea level rise. They hired a sustainability director, created a joint county coalition to address the issue at a regional level. Flooding happens far more often forcing them to raise road elevations.  
County F: Satellite information can identify natural disasters (e.g. forest fires) before they are identified by humans, but localities cannot dispatch personnel based on satellite imagery. 
County G: Racial tensions are a major concern in the county. They are in the process of creating a poverty reduction plan, in which the topic of racial equity is an inescapable point. They are also working on doing more racial equity training. 
County H: The community is majority white and racial tensions in rural communities are increasing. They created an equity access position and community board tasked with advising the county administration and board on internal practices and community issues. They hold semiannual equity summits for employees, hired a recruitment coordinator focused on hiring people from diverse backgrounds, and created internship opportunities for minorities – 5 of those interns became full-time employees. 
County I is currently hiring a racial equity officer, working with GARE and modeling programs after King County. 
County J was on the cover of Governing as having the most segregated school district. The county now has resources to help address the issue and is mobilizing to do so. They have reached out to GARE. 
County K: Politicization can create an obstacle to addressing many social issues from the CAO position. 

Affordable housing

County A is doing an economic development plan to hopefully address and commit new resources toward the problem. The lingering question is whether to address the supply side or the demand side. 
County B is incorporating a multiangle approach to tackling the issue: taxing the private sector to subsidize projects, dealing with coding to allow different building structures. Collaboration is a key element, and while government must be in the room, change should be driven by the private sector.
County C: One cannot build their way out of a housing deficit. COLAs are something that require attention. 
County D demands very expensive housing, creating market failure to create middle/low income housing. Builders aren't incentivized to build such housing, so how can counties reduce the impact of market failure to make it feasible for builders to build what's needed? 
County E: VRBOs are having a huge impact. Service worker housing is turning into VRBOs and smaller communities are being impacted by VRBOs in a real way. 

Cannabis

County A: Opioids are a major issue and small communities lack the resources to deal with the problem appropriately. It is uncertain how cannabis helps the current drug problem. The cannabis legalization in the state isn't working the way it was expected to work.
County B: Recreational/medical cannabis was recently made legal. $100,000 was budgeted for related revenue and $1.2 million was the actual revenue in year one. One problem the county is facing is the drug-free workplace rules. E.g. an employee had medical marijuana, tested positive for THC, was terminated, and the decision was ultimately overturned. They are having to reevaluate internal policies. 
County C has not legalized cannabis, though it is optional in the state. They are shutting down 3-4 illegal grow operations per week, which usually come with human trafficking cases. They recently had a fire in a rural area and they had to worry about the security of first responders as illegal growers were armed.

Federal funding: earmarks for public transportation, etc.

County A expects that earmarks are coming back as they tend to help the legislative process. 
Recent insight from the Chairman of the House Appropriations Committee: If there is grant that doesn't fit into the federal grant process, take it to the legislators – if earmarks are restored, they will likely be reinstated for transportation projects.

Increasing the amount of toll roads & dealing with citizen pushback

County A: A recent infrastructure grant included the term "managed lanes" which meant toll lanes. The total cost of the project was $350 million with local matching. The toll aspect caused commissioners concern and they almost didn't accept the $65m grant due to inhibitions about imposing tolls. 

Jails: bonds, ICE detainments, etc.

County A introduced a bail bond reform act – incarcerated individuals get income every day they are detained to offset their bond. The impact on county revenue has been neutral. 
County B: There are constitutional issues behind loss of benefits. They have begun utilizing a data matrix to determine risk. 
County C: People in their program go through a risk assessment. 
County D identified every type of local/state crime, classified levels of risk, and created a matrix for judges to consider when issuing bonds. The American Bail Coalition is now lobbying against the county. 
County E passed legislation that states people should be released without bail, establishing a way to identify risk. The American Bail Coalition has a petition to get it on the ballot and the legislation has now been delayed pending popular vote. They dropped 400 beds out of their jails over the past 2 years due to changes in practices. In 2011, the state was sued in federal court due to overcrowding and a huge number of incarcerated individuals were pushed from state to county facilities, forcing counties to readdress their policies. The state has undone former felonies (reclassified as misdemeanors) which led to reduction in incarcerations  
County F: It's a murky legal area, with contradictions in state and federal policies. 

Election reform: election machines

County A was having trouble in receiving federal funding to replace machines, so the county spent $5.6 million on new machines. 
Counties B and C have also spent money on new machines due to a lack of federal funding. 
County D is finalizing a grant for federal funding.
County E is working on securing funding for electronic machines with paper backup.